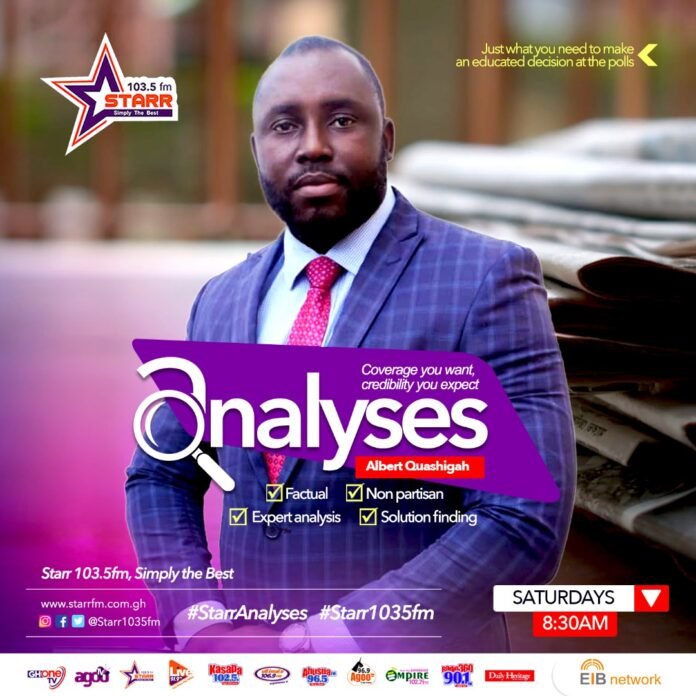 Host of Starr FM's new socio-political and current affairs show 'Analyses' Albert Quashigah says the program will seek to offer solutions to problems facing the country and not just discuss them.
The show which promises to be candid and pragmatic will engage civil society groups and other, politicians and other relevant stakeholders in broaching non-partisan and practical solutions to problems facing the country.
Speaking on the Morning Starr Wednesday, the host, who is a legal practitioner, noted he is upbeat about the show and can't wait to bring his legal expertise to the table.
"When Starr FM approached me and we spoke about it, I thought it's a great opportunity to come back to radio to help shape public opinion. Analyses will be on Saturday from 8:30am  to midday. That IS 3 and half hourS of analytical discussion. We don't want a talk show that discusses issues from purely partisan point of view. We want to be able to propose solutions to problems after every edition of the show. It is a program for experts and members of civil society," he stated.
Additionally, as part of efforts at ensuring that Ghanaian voters make informed decision on December 7, 2020 as the country goes to the polls to elect a President and Parliamentarians, Starr 103.5FM has launched the 'Fact-Checker' to verify claims and comments of political actors.
The Fact Checker begins this Thursday at 1:15 pm.
The goal of the program and the accompanying online publication is to fact-check statements of political figures and other interest groups regarding issues of great importance, be they national or local.  The show will rely on listeners and readers to ask questions and point out statements that need to be checked.
After facts are checked, and analysis completed, the team will rank the claims based on their findings and rate them according to their proximity or otherwise to the truth.
The show becomes the latest of the many shows the radio station has introduced to shape opinions and improve discussions as the nation readies for the elections.
Source: Ghana/Starrfm.com.gh/103.5FM