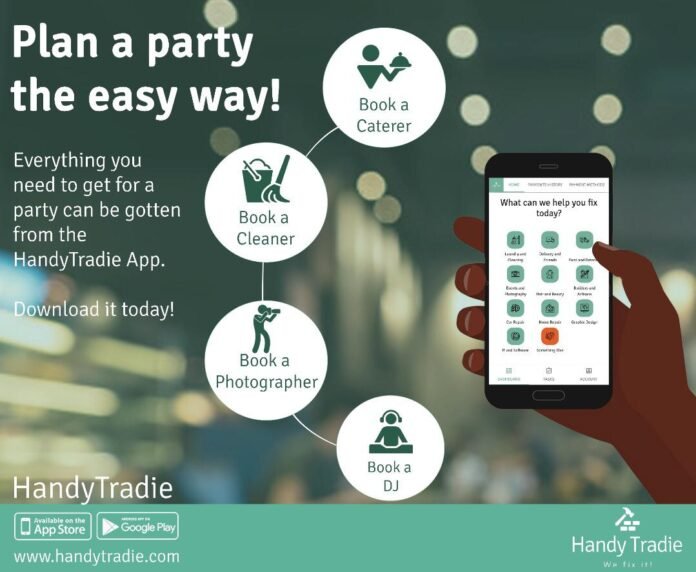 HandyTradie; a family-owned, fully Ghanaian homegrown startup, that hosts both service providers and users on the same platform is transforming online service provision. The platform according to developers has a singular goal of absorbing the hassle one goes through when searching for artisans, tradespersons, private teachers, event planners, caterers, lawyers and other service providers.
"The journey to the creation of the HandyTradie App began in 2016 in a crammed small living room in Brunswick, Melbourne, Australia following a series of disappointing experiences in their search for handypersons and service providers over the years in Ghana.
HandyTradie was conceived through a need. We moved to Accra and into a new house that needed a fair bit of work. Getting artisans to execute tasks was difficult. Not knowing service providers, we had to rely on recommendations by our neighbors. We were, however, left with uncompleted jobs; jobs done haphazardly; jobs that dragged on for longer than necessary or paying twice for the same job to be done most times.
As a result, we thought if we could create a platform where there is healthy competition, and all players are assured of receiving value for money, and fair payment for a job done, it would be a win-win situation.
And that was the beginning of a revolution in the Ghanaian online service provision space with the coming into being of the HandyTradie App." Customer Service Support Edem Lemaire told Francis Abban on Morning Starr.
How does the platform work?
The HandyTradie App can be downloaded from Google Playstore or Apple Appstore. After downloading, one needs to sign up by giving his or her personal details including residential address and national ID.
This is to eradicate fraud and other nefarious activities thus, protecting both the client and the service provider in line with the Data Protection Act, 2012 (Act 843) to protect the privacy of the individual and personal data by regulating the processing of personal information.
This will be followed by the selection of the option to either make money (service provider) or post a task (as a client) or both. The app also recommends that one enables notifications for his or her areas of interest.
When you need a job done after successfully signing onto the App, you go to the App Dashboard and click on the corresponding tile. You create the job, give details, including pictures or any relevant information (where applicable), to give a clear idea of the job requirements, due date, and budget.
Any tradesperson or service provider interested in the job will then put in a bid and provide any information or explanations on his or her particular quote. Once both client and tradie agree on a price, the client goes ahead to assign the task to the selected tradie.
In assigning the task, the client is taken to his or her mobile money platform to complete the transaction. The agreed sum is deducted and held in an online payment platform for HandyTradie. The tradie then gets a notification that he or she has been assigned the task and then accept.
Generating revenue using HandyTradie
Payment on HandyTradie is extremely simple and easy, as it relies on an online payment platform, to hold and process payment from a client to a service provider.
Once the provider completes the task, he or she clicks completed. The client is notified to approve and the payment to the provider is made immediately into his or her nominated mobile money account.
There is nothing like "go and come" for the collection of money and then not returning to complete the task. Payment is almost instant as if your client is next to you giving you the money when you finish a job, and with the bonus of added security and peace of mind.
The payment is less by fifteen percent (15%) of the agreed amount as transaction charges.
Is HandyTradie restricted to Ghana?
HandyTradie is not really restricted to Ghana. The app can be accessed from the Appstore or playstore wherever in the world, but the service providers, for now, are in Ghana. So, you can conveniently sit in your flat in Melbourne and have a job done for you in Ghana. Want to surprise your mother with a party? You can have it all planned and executed on HandyTradie. That is handy indeed!
What's unique about HandyTradie?
We give you secure convenience in the palm of your hand. We assure our customers that their money is safe with us until the task is done, and the person performing the task knows their payment is assured. We also have a strong customer support reaching out to our customers as they sign on. We actively seek feedback and our tech support team jumps in straight away to make our user interface and experience better.
Positive feedback
Since the HandyTradie App went live the feedback from the Ghanaian public has been nothing but massively positive. Some of the users of the App say it provides them the ability to post a task and have it reach many people at the same time, thus expanding their reach, giving them options and the perfect bid.
"We appreciate the fact that it does not interfere with any other job we have; we are free to go about our everyday jobs," some tradies intimate. "It's just outstanding the ease with which one can generate income through this APP."
Also, clients who have had their tasks done through the app were happy with the job done and the timely completion of jobs. "It was simply amazing," says Mo. Awal.
Constructive feedback on areas we can improve on are worked on; our customers know they have a voice.
Why you should sign onto HandyTradie?
Conceived out of the need to solve a problem, HandyTradie, connects you to verified handy-persons, tradespersons, and varied professionals to complete your maintenance work and other jobs. The service provider is able to bid for a job and the client also gets to bargain for the best charge. You can arrange an inspection, select a service, and pay for completed work – all from your mobile app, in the comfort of your home.
With the ability to rate service providers, one will know who does what best and only get the very best for each job.
Last words?
"Technology has taken over the world and it is time to join, not left behind. HandyTradie is the future now! But the human factor is still important to us. We are real people behind this platform, and you can call out with your comments and suggestions.
Look no further. HandyTradie is available where you need us, when you need us. We are committed to not just meeting your expectations but exceeding them." Stated CEO Teresa Lemaire.