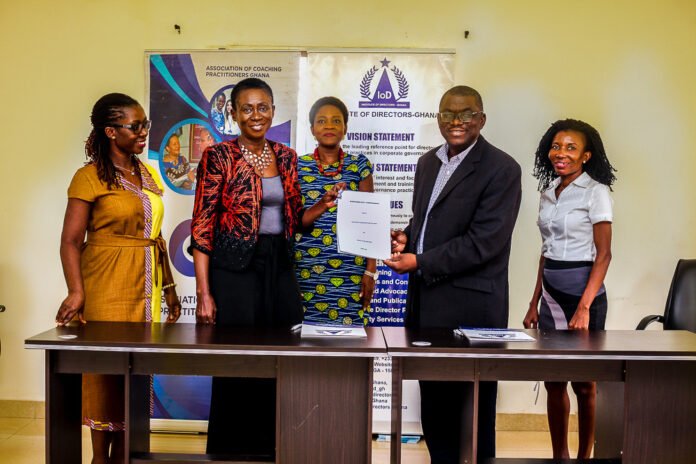 The Institute of Directors-Ghana (IoD-Gh) in partnership with the Association of Coaching Practitioners, Ghana (ACP) has launched the novel VUCA Edition of Coaching for performance in a colourful online ceremony.
Prior to this event, a Memorandum of Understanding (MoU) was signed by the leadership of both Institutions where they agreed to among others, undertake some joint pro-bono training activities twice a year.
As the world is presently going through unprecedented and turbulent times Corporate Managers and leaders in both the private and public sectors are experiencing disruption, uncertainty and change at such a spiralling rate due to the effects of the novel Coronavirus. Many organizations, institutions and businesses are faced with varying degrees of needs requiring solutions not based on predetermined plans, be they strategic, financial or operational.
Mr. Rockson Dogbegah, President of the Institute of Directors- Ghana while addressing the event mentioned it is generally recognized that the Practice of Corporate Governance basically encompasses all aspects of an organization's operations. He further noted that Governance systems, structures, strategies and operability are constantly being reviewed in line with current trends and the dynamics of the environment making Corporate Governance an increasingly topical issue because of its far-reaching consequences and the impact of its failures on organisations and nations.
Mr. Rockson Dogbegah made reference to a quote by Mr. James D. Wolfensohn, a former World Bank President, who once said "The Proper Governance of Companies will become very crucial to the world economy, as the proper governance of countries".
"As critical stakeholders, promoting ethical and effective leadership across the socio-economic and political spectra of the country is of paramount iimportanc" Rockson Dogbegah concluded.
In her address, Madam Catherine Engmann, President of ACP recounted the enormous benefits of coaching sharing insights from a 2009 research conducted by the International Coach Federation (ICF) which suggested that coaching in organizational and leadership settings has proven to be an invaluable tool for developing people across a wide range of needs. In the said research, eighty percent (80%) of the study participants who received coaching were reported to have increased self-confidence with over seventy percent (70%) benefitting from improved work performance, relationships, and more effective communication skills. Eighty-six percent (86%) of companies were also reported to have recouped their investments on coaching.
Mr. Fred Aryeetey, Chief Executive Officer of IoD-Gh, shared the vision of the joint project stating that the joint activity seeks to create awareness among industry players, decision-makers and critical actors in both public and private sector spaces. He added that the intervention is especially crucial in this Volatile, Uncertain, Complex and Ambiguous (VUCA) world of ours.
To further buttress his point, Mr. Aryeetey referenced a more recent 2016 survey; Building a Coaching Culture with Managers and Leaders, which was conducted by the Human Capital Institute in collaboration with ICF. Survey respondents were reported to have mentioned that the most important indicators of the impact they observed in their organizations were: improved team functioning – 57%, increased employee engagement – 56% and increased productivity – 51%. These were cited as the top three responses by over 50% of the respondents.
It is the desire of the two sister institutions that coaching will become the mainstay of businesses as leaders seek strategies to remain relevant and competitive.