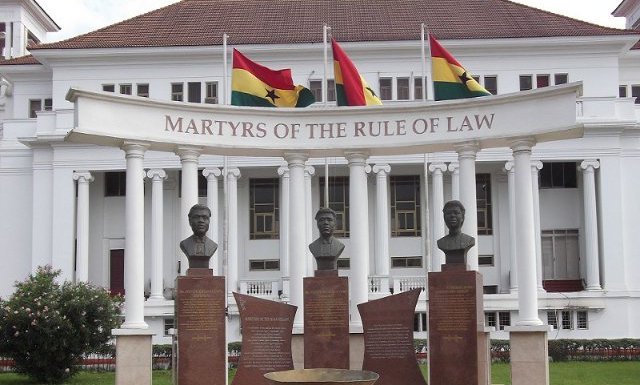 "Journalism is a profession not for the timid but for the brave" – (Dr. Roland Affail Monney, GJA President commemoration of 2020 World Press Freedom Day)
 Personal biases and prejudices are a reflection of humanity and the inevitable reality of human society. It is human nature to occasionally hold a personal grudge, harbour personal prejudices and personal biases against other persons or indeed to be biased against anything of social relevance just as it is human to occasionally dabble in rumors, peddle lies and to be truthful and honest.
However it is unconscionable to allow one's personal prejudices and biases to cloud and interfere in one's judgement on matters of "societal virtues and vices" and on what is considered to be factually "true or false". Worse still it is evil to allow your personal biases and prejudices to cause you to bear false witness against another person and paint a false narrative on an incident and then proceed to act unfairly, unjustly and fail to apply the principles of fairness, equity, and natural justice.
Irrespective of our personal biases and prejudices, we are all required to be accountable for our personal actions and must be ethically minded in professional conduct at all times when called upon to uphold societal norms and the principles of natural justice.
The fact is no human being to have ever lived and traversed the earth in their lifetime whether that person was Adam and Eve (cohabiting the garden of Eden), or Moses who led the Israelites out from Egypt to the border of Canaan the promised land, or Prophet Mohammed (may Allah bless his holy name), or Pope Francis or even Judas Iscariot whose singular act of betrayal paved the way for Christendom to inherit visa-free passage to eternal salvation, never told a lied or was never suspicions of other persons and never harbored personal prejudices on any social issue of their times.
"The further a society drifts from the truth the more it will hate those who speak it" – (George Orwell, Journalist and author of "Animal Farm")
Ghana after 63 years of independence is now governed by an NPP administration led by Nana Akufo-Addo and Mahamudu Bawumia. Ghana has come full circle and today is contending with the "forces of evil and darkness" and the collective conscience of Ghana. It is now crystal clear to discern those in Ghana who speak truth to power and authority, and the double-faced sanctimonious purveyors of doublespeak and shylock partisan activists cloaked in a motely of seemingly "neutral partisan colors" but nonetheless are dyed in "invisible NPP partisan colors".
Today the true colors of NPP a political party that preys on gullible minds and portrays itself as the doyens of "rule of law", purveyors of "democratic governance" and the political party that eschews "the culture of silence" and viciousness of "the men on horseback" under Nana Akufo-Addo and Mahamudu on a daily basis demonstrates that they are anything but what they profess and espouse to the world. Indeed, Ghana is witnessing the worse assault on democratic freedoms and democratic governance in the annals of the country's political history!
"Beware of pro-government media in your country because they don't open your eyes, they only make you blind" – (Mehmet Murat Ildan – Turkish author)
If a choice was given would you rather have as Chairperson of the Electoral Commission of Ghana, a General Secretary of a political party like the late Sir John or General Mosquito whose partisan affiliation is without doubt, or would you rather have a pretentious closet card bearing partisan activist cast in the mold of Jean Mensa or Eric Asare Bossman to superintend over "free and fair" democratic elections in a multiparty system of governance?
If Lionel Messi retired from football and becomes a FIFA certified referee and has the privilege of refereeing a UEFA Champions League Cup finals between Barcelona FC and Real Madrid, will Lionel Messi wear the Barcelona jersey stripes as a referee on the field of play and officiate the match as the 12th Barcelona footballer on the field, or would he wear the traditional black referee apparel with the FIFA referee badge of honor and interpret the "laws and rules" of Association Soccer rather than sing the praises and rules of Barcelona FC?
Ghana's democracy has advanced from the oppressive days of the "men on horseback" when the mere sight of military apparel sent shivers down the spines of any law abiding citizen! Is Ghana now experiencing a renaissance of "democratic governance" and culture of the "rule of law" under neutral arbiters of justice and proponents of "freedom of speech" when it is obvious that many are cloaked in garments boldly imprinted with indelible "invisible NPP party colors".
Back in my days in Koforidua during the late 80s and 90s, I used to frequent the popular Benbow Spot which at the time was a popular Friday night and weekend hangout for some lawyers, civil servants and social elite of New Juaben.
"Until you realize how easy it is for your mind to be manipulated, you remain the puppet of someone else's game" – (Evita Ochel – Educationist)
Those who witnessed the swiftness to which the verdict on the Montie-3 contemnors was delivered should not expect the same speed to be applied in the Kennedy Agyapong contempt case which appears to be less scandalizing of the Courts than the Montie-3 contempt case.
For those expecting a whimper of resentment on the slow pace of the Kennedy Agyapong contempt case from the Ghana Bar Association (GBA), should remember that remnants of the "unseen hands" remote controlling the GBA who at the time failed to show solidarity by accompanying Nii Osah Mills (the then president of the GBA) when he visited Tsatsu Tsikata at the Nsawam prison during his incarceration instigated by former president John Agyekum Kufuor, are now fully in-charge of GBA and the judicial establishment.
There are so many hypocritical associations and seemingly neutral apolitical Civil Society Organisations (CSOs), Trade and Professional Associations, Religious Associations etc. whose true partisan colors are visible for all to see.  Their "invisible NPP party colors" is evident in the issues they chose not to publicly make comments on, and the speed to which they mobilize and mass up to speak out on topical issues.
On Thursday 8th October the valiance of David Tamakloe the Managing Editor of WhatsApp News Ghana was tested when he was arrested by some Police Officers from the Tesano Police Station and quickly whisked away to New Edubiase to spend the night in Police remand custody cells. David Tamakloe also doubles as the Vice President of PRINPAG (Private Newspaper Publishers Association of Ghana) and by implication is a member of the Ghana Journalists Association (GJA). It was heartwarming for Dr. Roland Affail Monney (current President of GJA) and also PRINPAG to quickly issue a public solidarity statement protesting the manner to which David was arrested by the Police for an alleged offence of simply doing his job as a journalist.
Ghanaians should however not expect any public comment on the David Tamakloe police arrest from the incumbent Head of the National Media Commission (NMC) whose personal partisan biases are legendary. Same applies to any solidarity public statement from the Media Foundation for West Africa (MFWA). These latter institutions even during the Montie-3 contempt incident publicly failed to show solidarity or plea for mercy to be tempered with justice.
To David Tamakloe I can only say, remain resolute for the "Hand of God" is always on the side of truth. For those who have chosen to side with the oppressor, you are William Shakespeare's cowards who die several times before their deaths, because on 7th December 2020 it shall surely come to pass and the forces of evil shall be banished, and Ghana our beloved country will be free forever.
"We have now sank to a depth at which the restatement of the obvious is the first duty of intelligent men" – (George Orwell)
Opanin Archimedes Owusu-Ababio
C/o Cocoa Shed: Suro-nipa Nkwanta
Eastern Region