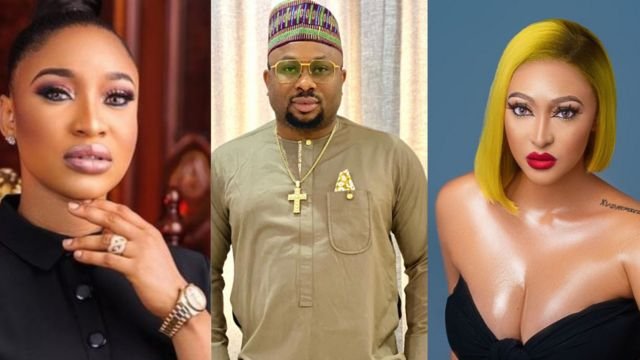 Social media went agog on Monday after Nollywood actress Tonto Dikeh's ex-husband Churchill Olakunle penned down a beautiful message for his former personal Assistant now his new wife Rosy Meurer on her birthday.
Fans attacked Churchill for making the media backlash his former wife, Tonto Dike in 2017 when Tonto said she was aware that Meurer is the reason Churchill abandoned her and their son.
She also revealed in that same year that her husband bought Meurer a car as a gift on her birthday, an allegation Meurer and Churchill later debunked insisting that they were like brother and sister to each other.
The media subsequently tagged her (Tonto) as depressed and crazy.
Following Churchill's recent birthday message to Rosaline on Twitter where he tagged her 'Mrs Churchill' and used the hashtag '#twoyearsandstronger', "a special sunrise, on this precious day, a great woman was born. During my hard times when depression would have taken the better part of me, you were my bedrock. When it was like the whole world was against me, you stood by me, even took some missiles because of me. When I thought I lost it all, you encouraged me to hope in God that He will give me back all l have lost."
"Happy birthday MrsChurchill. Age with grace, l have got your back 24/7 by the special grace of God In another post, Churchill revealed that he and Meurer have been together for two years with the #twoyearsandstronger."@rosymeurer May God bless you today on your birthday and every day after. May you be comforted by His presence in your life. You have brought so much happiness, laughter, and wisdom into our life," he wrote.
Reacting to this, some followers took to the comment section and wrote
https://twitter.com/BadmanSophss/status/1361219582460104709?ref_src=twsrc%5Etfw%7Ctwcamp%5Etweetembed%7Ctwterm%5E1361219582460104709%7Ctwgr%5E%7Ctwcon%5Es1_c10&ref_url=https%3A%2F%2Fwww.bellanaija.com%2F2021%2F02%2Folakunle-churchill-rosaline-meurer%2Fhttps://twitter.com/a__vanita/status/1361216897950318594?ref_src=twsrc%5Etfw%7Ctwcamp%5Etweetembed%7Ctwterm%5E1361216897950318594%7Ctwgr%5E%7Ctwcon%5Es1_c10&ref_url=https%3A%2F%2Fwww.bellanaija.com%2F2021%2F02%2Folakunle-churchill-rosaline-meurer%2Fhttps://twitter.com/90sSophie/status/1361218887904337920?ref_src=twsrc%5Etfw%7Ctwcamp%5Etweetembed%7Ctwterm%5E1361218887904337920%7Ctwgr%5E%7Ctwcon%5Es1_c10&ref_url=https%3A%2F%2Fwww.bellanaija.com%2F2021%2F02%2Folakunle-churchill-rosaline-meurer%2F
https://twitter.com/Mohnice_/status/1361235009860816897?ref_src=twsrc%5Etfw%7Ctwcamp%5Etweetembed%7Ctwterm%5E1361235009860816897%7Ctwgr%5E%7Ctwcon%5Es1_c10&ref_url=https%3A%2F%2Fwww.bellanaija.com%2F2021%2F02%2Folakunle-churchill-rosaline-meurer%2F
The joy you feel when you have been vindicated.

It may take long but truth will always prevail.

And the way God kept blessing that lady.
She didn't even hide. She kept doing her thing believing.

Tonto was saying the truth but people choose the one that suits them..

— PoR-Tia (@i_amPortia) February 15, 2021
Source: Ghana/Starrfm.com.gh/Erica Arthur