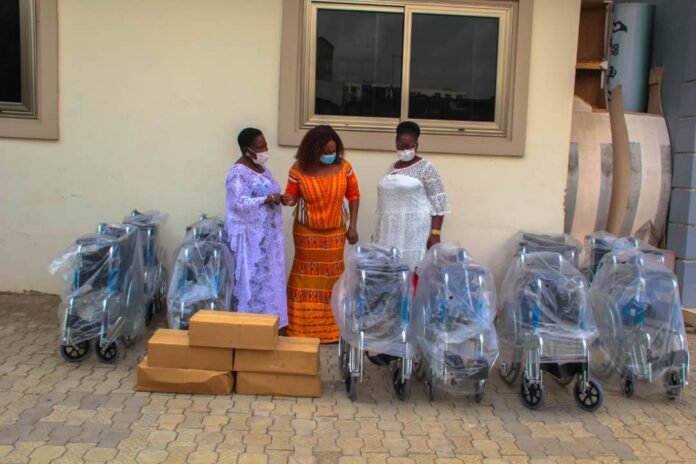 The former Minister of Gender, Children and Social Protection, Otiko Afisa Djaba, has called on President Akufo Addo to walk the talk on the appointment of persons with disability and women to key positions in his government.
According to Otiko Afisa Djaba, the nomination of Dr Joshua Makubu a physically challenged person as Oti Regional Minister-designate is not enough, that, many more persons with disability should be appointed to other key positions in government.
"I will also like to use this occasion to ask the President that the appointments that he is making, there is the need to give a quota to persons with disability and women. For the 46 ministers that he has so far nominated, only one Regional Minister nominee for Oti -Dr. Joshua Makubu is a person with a disability. We have 3% of Ghanaians who are persons with disability. One appointment does not reflect the fact that we have a population of three per cent of people who have a disability"
She continued "It also does not speak well that the President who is the AU Gender Champion for Africa who is also the Co-chair of the Eminent Advocate for the Sustainable Development Goals and the Chairman of ECOWAS who has five daughters. it is important that President Nana Addo Dankwa Akufo Addo should set a good example and demonstrate to the world that Ghana in sub-Saharan Africa is a beacon of democracy. There is a need for him to put action into his words. Ghana beyond Aid includes persons with disability with women. So Appointments that are not yet done like the Ambassadors, the Chief Executives, the Board Members all the other appointments -Deputy Ministers there should be a quota, three per cent of all those people should be persons with disability and 30% should be women".
The former Minister bemoaned that President Akufo Addo did not appoint a person with a disability to the Council of State which is the apex statutory advisory body of the President
"When I saw the council of state members being sworn- in, I realized there were only about four women, and no person with a disability and that is the highest advisory board for the government".
Madam Otiko Djaba who is currently the Executive Director of Henry Djaba Foundation said this when the Eastern Regional Women's Organizer of the ruling New Patriotic Party who doubles as the Regional Coordinator for School Feeding Program, Mrs Fati Vondoli donated ten brand new wheelchairs and five boxes of alcohol-based hand sanitiser to the Henry Djaba Foundation on her birthday towards its "1000 wheelchairs per Region project".
Otiko Djaba stated that Ghana has over 187,000 people who have been affected with a physical disability however only 30% have wheelchairs.
she explained that among the 30%, some of their wheelchairs are even malfunctioning and some damaged beyond repairs adding to the rest of the estimated 70% consisting of 131,000 people with disability who need wheelchairs and other assistive devices.
She said "the development of persons with disability has been left behind for far too long. As Ghana celebrates 64 years of Independence i'm pleading on behalf of all persons with disability that we should show them respect, we should show them love we should support them and not see them as a burden. They should be in school, they should have healthcare, they should be able to move around, they should have access, they should have employment"
Source: Ghana/Starrfm.com.gh/Kojo Ansah