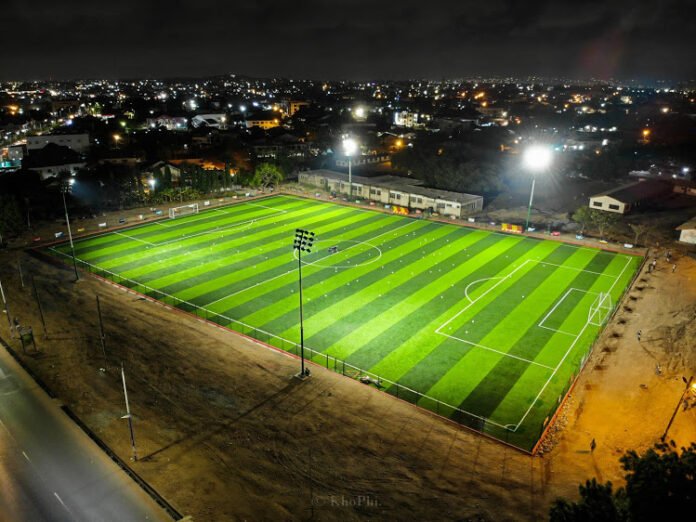 Nana Akuoko Sarpong Omanhene of the Agogo traditional area has endorsed the one constituency one Astro pitch project as Ghana Gas cuts sod and breaks ground for the construction of an Astro pitch at Agogo in the Asante Akyem North municipal.
The Astro pitch which will be constructed by Wembley sports complex with financing from Ghana Gas company will help to unearth football talents from the town that abounds with a lot of talented footballers. Asante Akyem Agogo prides itself with producing national stars like Sulley Muntari, Kojo Asamoah, Frank Osei amongst others.
Speaking at the ceremony, Agogomanhene Akuoko Sarpong who is a staunch sports fanatic expressed his joy at the realization of an age old dream of getting a state of the art sports facility at Agogo and recounted the efforts he has put in over the years to develop sports in his traditional area.
"When I was informed that my own grandson Owusu Bempah and Ghana Gas wants to bring this project to Agogo, I was happy because it's been my dream as a sports enthusiast to help my people develop their sports talent". "A nation cannot develop without developing its people and Sports is very important in doing that" he added.
Nana Akuoko Sarpong demanded that the contractor sticks to the scheduled six months for completion of the project as he wants to witness commissioning himself before he departs to his ancestral home.
On the Part of Ghana Gas company who are financing this project, communications director Ernest Owusu Bempah said the project is to help unearth and further develop football talents in the community and thanked the traditional leaders of Agogo for their unflinching support for the project.
"I want to express my appreciation to the Omanhene and Queen mother of Agogo traditional area for giving us this land to construct this state of the art facility on, they have been very supportive in getting this done and then to the Board and Management of Ghana Gas company for fully funding this noble project to help unearth and nurture the football talents in Agogo" Bempah said.
The CEO of wembley sports complex who are the contractors Robert Coleman also assured the traditional council and the people of Agogo that the construction of the state of the art pitch will be completed in exactly six months.
"Let me assure everyone here that in exactly six months, we will be here again to commission this project".
"Construction works will begin right after this ceremony and we will finish before December" he said.
He further assured Omanhene Akuoko Sarpong of delivering quality work as has been their hallmark in the construction of other Astro Turfs in the country. "Wembley Sports complex stands for excellence, we have constructed over thirty quality pitches in Ghana and I can promise you what you will see here in the next six months will be of the highest quality in Ghana".
Wembley Sports Complex have already constructed over thirty(30) Astro pitches in Ghana.
Source: Starrfm.com.gh/103.5FM/Benjamin Yamoah