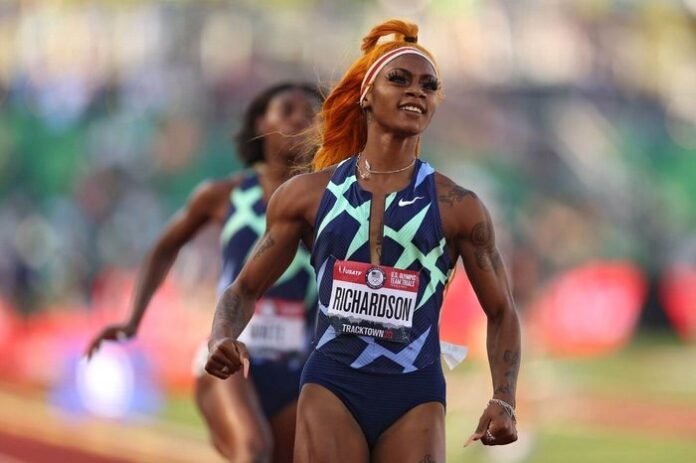 American sprinter Sha'Carri Richardson who won the women's 100-meter at the U.S. trials last month has tested positive for marijuana, according to Reuters and the New York Times, a result that would automatically disqualify the gold medal contender from taking part in next month's Olympic Games in Tokyo.
According to Reuters, Richardson's sample tested positive at the U.S. Olympic trials in Oregon last month, where she won the Women's 100-meter race with a time of 10.86 seconds.
While the test result is yet to be made public, Richardson appeared to acknowledge it in a cryptic tweet that said "I am human."
U.S.A Track & Field has informed other's who competed in the trials about Richardson's failed drug test, and everyone has been moved up a spot in the final standings, the New York Times reported.
Richardson's disqualification means Jenna Prandini, who placed fourth at the trials will now be one of the three American women participating in the 100 meters race, the NYT report added.
The use of Marijuana is banned in competition by the World Anti-Doping Agency (WADA) which means between 11:59 pm on the day before the competition and its conclusion.
USADA, which is a WADA signatory, considers marijuana both a performance-enhancing substance and a drug of abuse.
The 21-year-old's reported suspension is a major blow to the U.S. Track team as Richardson was considered a genuine gold medal contender and was expected to be one of the breakout stars of the Tokyo games. An American woman has not won the 100-meter gold at the Olympics since Gail Devers' victory in the Atlanta 1996 games. Richardson had put up a dominant show at Olympic qualifiers last month, blowing away her competition with a 10.64 seconds time in the semis and 10.86 seconds in the finals. Her semi-final performance put her just 0.01 seconds behind "the fastest woman alive," and two-time Olympic gold medalist Jamaica's Shelly-Ann Fraser-Pryce.
The punishment for testing positive for marijuana can go up to a two-year-long suspension. The minimum suspension length is 30 days if an athlete can prove their marijuana use was unrelated to sports performance and they agree to take a substance abuse treatment program. If Richardson's ban is backdated to the day she tested positive, she may be cleared to compete in the Women's 4X100-meter relay competition if she is selected by the USATF. Regardless of her ban's end date, Richardson will not be able to participate in the 100m sprint as her qualifying performance would have been wiped off the books.
Source: Forbes