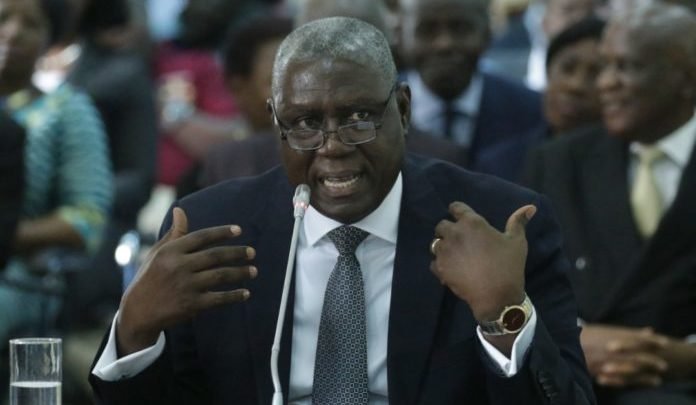 The Alliance for Social Equity and Public Responsibility (ASEPA) has petitioned CHRAJ to investigate Chief Justice Justice Annin Yeboah over the bribery claim against him.
The petition said "a response filed by Mr. Kwesi Afrifa Esq a Ghanaian Lawyer. in response to a petition brought against hirn al the General Legal Council by one Nana Ogyeedom Obranu Kwesi Atte VI made some very chilling allegations against the Chief Justice of the republic Ghana Justice Kwesi Annin Yeboah.
"An allegation that Nana Ogyoodom Obranu Kwesi A. VI disclosed to his former Lawyer Mr.Kweal Mate Esq, that the Chief Justice had demanded a bribe of $5 million from him to help him win a case he had at the Supreme Court, the petition indicated."
Read the full petition below: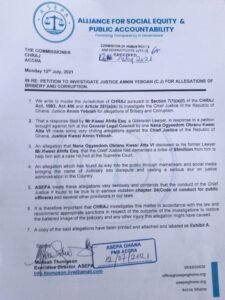 The Chief Justice has officially written to the CID availing himself for investigations.
A statement from the office of the Judicial Secretary read "the attention of His Lordship the Chief Justice has been drawn to copies of letters from a Lawyer (Akwasi Afrifa, Esq) and his client, the plaintiff in the matter of OGYEEDOM OBRANU AWES] ATTA IV V GHANA TELECOMMUNICATIONS COMPANY & LANDS COMMISSION, to the Distiplinary Committee of the General Legal Council, and which letters are making rounds on soda! media. His Lordship is saddened that without any shred of evidence, his name has been dragged into this sordid and potentially criminal matter."
"His Lordship confirms that he does not know the plaintiff and has not met or seen him anywhere, except In the courtroom when he rises to announce his name when his case is called."
It added, "His Lordship asserts that he has had no personal interaction either with the plaintiff or his lawyer on this matter or in any other matter."
"His Lordship further asserts that he has not demanded a received any money from any person to influence any decision In this matter or any other matter. Indeed, the meads show that the plaintiff unsuccessfully petitioned for the recusal of His Lordship the Chief Justice and His Lordship Justice Victor ion. Mawulorn Dolse from the matter, on a claim that they were prejudiced against him."
TO ALL MEDIA HOUSES FROM THE JUDICIAL SERVICE OF GHANA- JULY 12 2021 REQUEST TO GHANA POLICE
Source: Ghana/Starrfm.com.gh/103.5fm