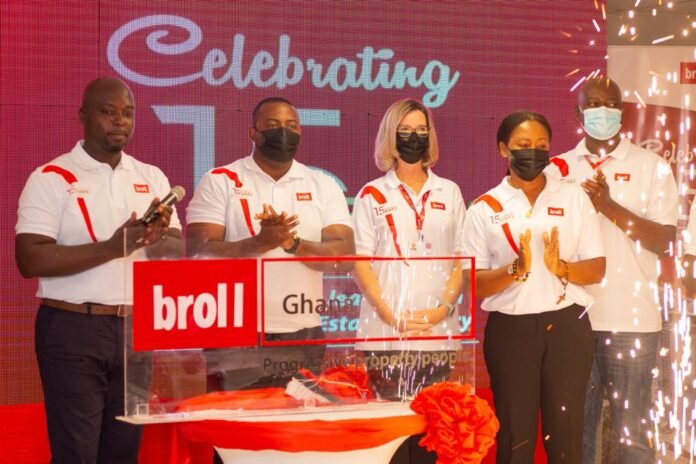 Broll Ghana Limited, the country's foremost property services company, has officially launched its 15th-anniversary celebration to share its success story, reflect on where it started from, where they are now and importantly where it's heading.
The launch, which was held under the theme: "15 years of progressive leadership in real estate services in Ghana," was carefully selected to reflect on how the company has been able to consistently move closer to its bigger dream whilst attaining the smaller ones through able leadership and commitment.
The Chief Executive Officer of Broll Ghana, Tony Sekyere, in his address at the anniversary launch emphasized that a decade and a half in the life of a successful corporate body operating in Africa's challenging business environment is a significant milestone worthy of celebration.
"The aim for creating Broll Ghana was to have an organization that could deliver an integrated and professional approach to the provision of property management and primarily address the lack of maintenance culture prevailing in the real estate environment, and also offer a full spectrum of property-related services.
Looking around this room, I am reminded again that our people are our greatest asset. From a staff strength of six, affectionately called the big six, some of whom we are proud to have amongst us today, Broll Ghana now boasts of staff strength of over 151, with representatives in all other regions in Ghana," he said.
Furthermore, he reiterated that Broll Ghana started operations in 2006 with two main services namely; property management and facilities management and has added other services over the years and is now a multidisciplinary professional services provider. It provides property consultancy services in seven core areas including shopping centre management, property broking, corporate real estate services, valuation and advisory, market research, facilities management and property management.
Mr Sekyere, also revealed that Broll Ghana would be introducing a bespoke management software called Broll Vantage which is in line with the company's initiative to address the current market changes emanating from the distractive trends of both the COVID-19 pandemic and digital transformation which seeks to change the way of doing business.
"In this regard, our next phase would see the introduction of Broll Vantage, which raises the technology bar so to speak to the next levels of transparency, flexibility and data insight never seen before. We believe that from the industry perspective, the product will provide cutting-edge operational support and reporting technology that would change the property tech landscape," he stressed.
Board Chairman of Broll Ghana, Rev. George Amoako-Nimako, taking his turn, stated that Broll Ghana is a product of a joint venture agreement between three corporate entities, namely SSNIT, SIC and Broll Property Group South Africa, and has grown over the years through thought leadership to become the number one urban property manager in the country, providing support to the economy.
Broll's client base has increased from three on inception to the current thirty-four. "Through hard work and tenacity, and with God's Blessings the current portfolio now includes (to name but a few): Ghana Shippers Authority, A&C Development Attafrica (Accra Mall), Delico Investment (West Hills Mall & Achimota Retail Centre), Lango Real Estate, Social Security and National Insurance Trust, SIC Insurance Company, Ernest Chemist, Actis, GRIT Real Estate, Polo Court and Polo Heights, Mobus Property and many more," the CEO stressed.