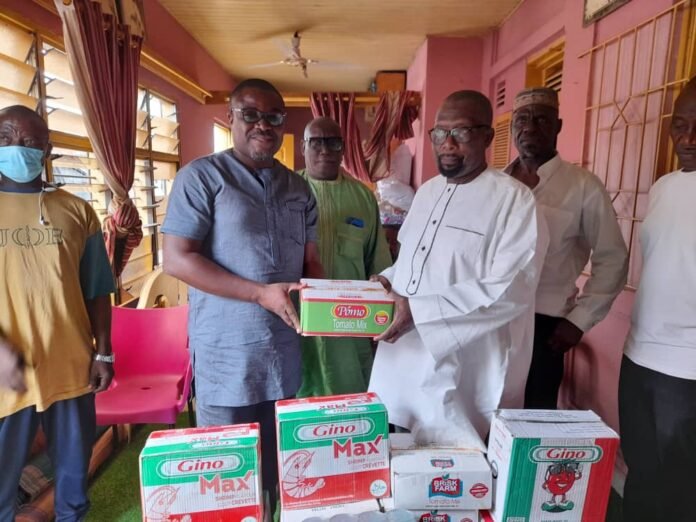 GB Foods, producers of Gino and Pomo range of products and Herbert Mensah have made a donation to the Kumasi Central Mosque in the Ashanti Region as part of their support for the Eid Al-Adha celebrations.
The donation coincided with the celebration of Eid Al-Adha by Muslims worldwide, the holiest festival in the Islamic calendar.
The Festival of Sacrifice marks the end of the Hajj pilgrimage, where Muslims return from pilgrimage to Mecca.
Muslims sacrifice goats, sheep, lambs and cows to represent Ibrahim's commitment to God, where Allah came to Ibrahim in a dream and asked him to sacrifice his son Ismail as an act of obedience to God.
Participation in the sacrificial festival is mandatory for all Muslims that can afford.
As part of their corporate social responsibility, GB Foods donated products like Gino Max, Shrimps Brisk Farm tomatoe mix, Gino Mackerel, Gino Tomatoe, Gino Rice among others to the Kumasi central Mosque through astute businessman and sports administrator Herbert Mensah to enhance the celebration of the Eid Al-Adha festivities.
The former Asante Kotoko chairman then topped the donation up with an undisclosed amount as his support towards the Eid-ul-Adha celebration.
Presenting the items were the Northern Sector Regional Sales Manager of GB Foods, Roger Nii Offei Chinery and King Edward of Hello FM in Kumasi, Prince Osei Sarpong (Baba Yara) on behalf of Herbert Mensah.
The Ashanti Regional Chief Imam, Sheikh Abdul Mumin Haroun who received these items on behalf of all Muslims at the Kumasi Central Mosque expressed his excitement and appreciation to Mr Hebert Mensah and GB Foods and thanked them for the honor done them.
GB Foods company has donated towards various causes such as flood victims, gas explosion victims, families of May 9 Stadium disaster victims and many others over the years.