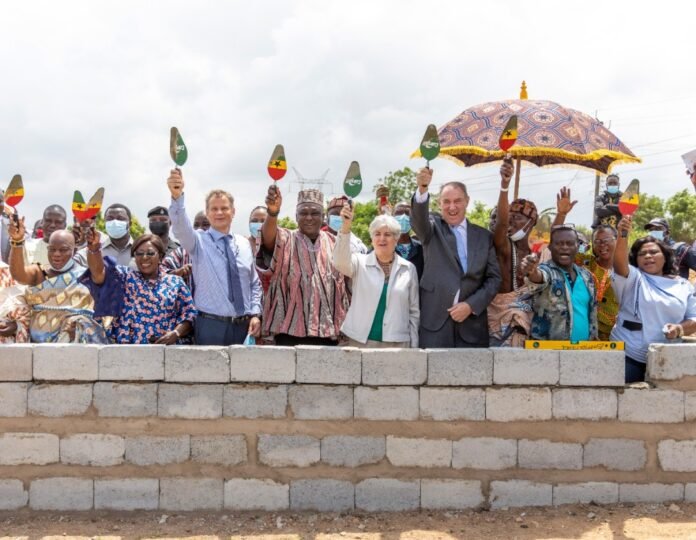 Adjei Kojo, a community in the Tema West constituency of the Greater Accra region will get its second public school before the year ends.
The community, since its creation some fifty to sixty years ago, has served children with just one government school, the Adjei Kojo Government School.
Children in and around the community have to walk three to four miles to and from school to access education.
Cargill Inc, in 2019, as part of its corporate social responsibility, outlined a plan to build six schools in Ghana: five in cocoa producing districts and one in Tema.
The project is being executed in partnership with CARE International, comprising of three primary schools, two kindergarten blocks, and one junior high school block, in the communities of Fahiakobo, Lineso, Fojourkrom, Juabo, Afofiekrom in the Western North Region and Adjei Kojo in the Tema West constituency, close to Cargill's processing facility.
A sod-cutting event was held on Friday, June 9 on the school's site which has gone beyond the foundation level.
The event was graced by the Chief of Staff of the Presidency Frema Akosua Osei-Opare, the Deputy Minister of Education John. Ntim Fordjour, Deputy Minister of Trade and Industry Hon. Michael Okyere Baafi, the US and Dutch Ambassadors, Her Excellency Stephanie S. Sullivan and His Excellency Ron Strikker, the MP for Tema West Carlos Kingsley Ahenkorah, and dignitaries from the other five project communities across the country.
The Deputy Minister of Education Hon. John Ntim Fordjour iterated the ministry's commitment to supporting the Cargill Schools building project.
He highlighted the readiness of his office to deploy qualified teachers to the schools once they have been completed.
"In this year's budget, the government has further committed substantial investment into infrastructure expansion but the duty of serving humanity is when all come together, particularly the private sector, to augment the efforts of the government. And that is why I am particularly excited about Cargill's initiative of investing in education.
"The best way to deploy Corporate Social Responsibility is to target education because that is where you are assured of yielding dividends which will come back into your hands. I salute the leadership of Cargill and challenge all others in the private sector to do the same and to up the scale.
"In alignment with the Sustainable Development Goal 7, the opportunity for access to quality education for all has been created through this Cargill project and no one will be left behind."
Chief of Staff Frema Opare intimated "ensuring  a sustainable cocoa sector is key on the agenda of all stakeholders in the value chain which can effectively be realized through the provision of certain life-changing facilities such as schools."
"It is no secret that through education, children are empowered to learn the necessary skills needed to equip them for their future professional lives. It is our hope that through this Cargill's school project, children in and around designated cocoa communities will receive quality primary education."
She added, "this will significantly contribute to the course of developing community resilience as well as the long-term sustainability of the cocoa sector."
The CARE PROSPER team tasked with the construction of the school will involve key stakeholders such as the District Director of Ghana Education Service, the District Works Department Engineer, Planning Officer, opinion leaders, and community members in the course of the projects.
Background to CARE-Cargill partnership:
Cargill and CARE are partnering to support cocoa sustainability and working in cocoa-growing communities to build better lives for cocoa farmers and their families. The partnership in West Africa focuses on establishing more prosperous, sustainable, and resilient cocoa farming communities through a community development approach.
Since 2008, nine programs have been implemented in two hundred and sixty-four cocoa farming communities in the region to address critical challenges faced by the farmers, including cocoa production, prevent child labor practices, women's economic empowerment, access to financial services, nutrition, and education.
In Ghanaian cocoa communities, the partnership has helped people access the resources, skills, and tools necessary to change their own lives. CARE and Cargill believe that just and sustainable food and agricultural systems are possible, but only if we actively address injustice, improve rural livelihoods, and build more inclusive systems can we achieve sustainable, long-lasting impact.
CARE and Cargill released a report which highlighted the positive impact in West Africa cocoa communities during this 10 years partnership earlier this year.
About CARE International
Founded in 1945, CARE is a leading humanitarian organization fighting global poverty. CARE places special focus on working alongside poor girls and women because, equipped with the proper resources, they have the power to lift whole families and entire communities out of poverty. In 2020, CARE worked in over 100 countries, reaching more than 90 million people through 1,300 projects.
CARE International in Ghana has been operating in Ghana since 1994 and currently works with more than 40 partner organizations to implement interventions that promote integrated program approaches to the fight against extreme poverty and social injustice, seeking to sustainably transform the lives of the poor and vulnerable women and youth in Ghana. CARE helps people cope with crises through disaster risk reduction, emergency relief, preparedness, and post-crisis recovery. In 2019, CARE Ghana reached 840,897 people to support their food and nutrition security, resilience to climate change and promote their access to and control of economic resources.
About Cargill Ghana Limited
Cargill's 155,000 employees across 70 countries work relentlessly to achieve its purpose of nourishing the world in a safe, responsible and sustainable way. Every day, it connects farmers with markets, customers with ingredients, and people and animals with the food they need to thrive. It combines 155 years of experience with new technologies and insights to serve as a trusted partner for food, agriculture, financial and industrial customers in more than 125 countries. Side-by-side, Cargill is building a stronger, sustainable future for agriculture.
Source: Ghana/Starrfm.com.gh/103.5fm