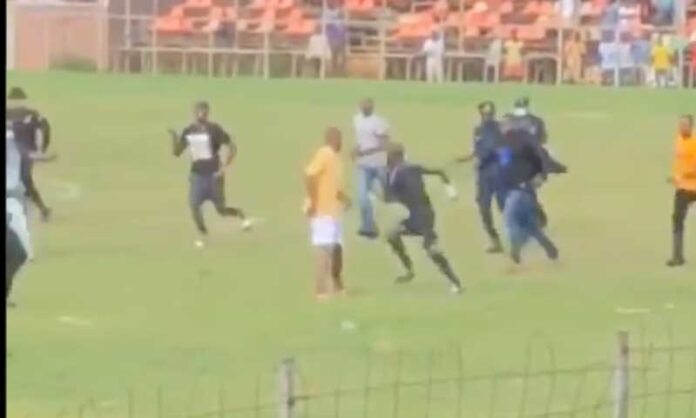 The Bono regional Police PRO ASP Okai Patrick Kodjoe says there was no security Police in the fan hooliganism which resulted in a referee being beaten in the Division 1 league match between Real Tamale United and BA United.
A video gone viral shows fans of B/A United chasing the referee on the pitch and assaulting him for a penalty he had awarded the away team. The team bus of RTU also had to be escorted by armed Police officers while leaving the town over fears they will be attacked by the irate fans.
Speaking to Francis Abban on the incident, ASP Kodje said the Police cannot be blamed for the attacks since they had shown up for the game.
"I don't have any information regarding people being attacked in town apart from the referee and some officials being attacked on the pitch. Per the reports available, there was no prior intelligence of violence. The match officials and those into football can tell whether the place is a flashpoint for violence or not but we had enough security.
"I will never agree with the fact that there was a security failure. There was no security failure because we did our best to make sure that it doesn't happen. If we hadn't contained the situation, it would've been worse," he noted.
He however noted, "as we speak, there's not been any information on any arrest. If we get those who perpetrated the act, we'll definitely make some arrest".
Also reacting to the development, the PRO of the GFA Henry Asante Twum said the FA will probe the matter and punish offenders.
"The laws are clear so when we apply the laws, whoever is found culpable will be brought to book. We have videos, names, and the match officials also made some notes so we'll liaise with the police in bringing the perpetrators to book".
Source: Ghana/Starrfm.com.gh/103.5FM