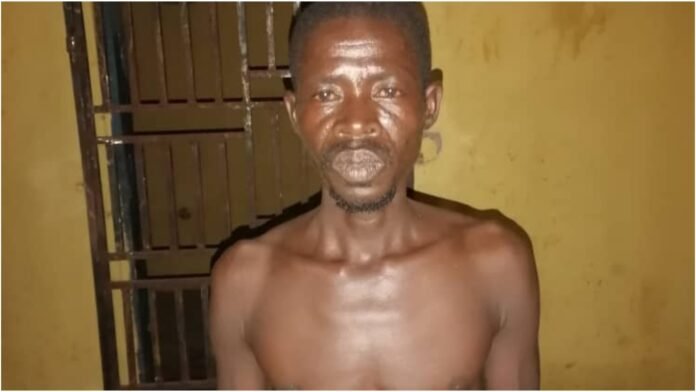 A forty-five-year-old farmer, Yaw Muntom, has reported himself at the Prang police station for shooting and killing his thirty-year-old wife at Lele, a suburb of Prang in the Bone East region.
At about 15:00 hours, the suspect told the police that he had a quarrel with his wife Abena Jayon and in the course, went to his room, took his single barrel gun, and shot the wife dead.
Upon receipt of the report, the suspect was arrested, handcuffed, and together with the police proceeded to the scene of the crime at Lele where the suspect led police to his house and pointed to police the body of his deceased wife lying in a prone position dead in a pool of blood while the single barrel gun allegedly used to kill her was also lying beside the body.
The body was carefully examined and a gunshot wound was seen on her left shoulder close to the neck.
The gun was also inspected where an empty BB cartridge was found in the gun chamber. The body and scene were photographed and the body has been conveyed to the Mathias Catholic Hospital Morgue, Yeji for preservation and autopsy.
Suspect Yaw Muntom was detained in cells to assist with investigation whilst the exhibits; a single barrel gun and an empty BB cartridge were kept at the station for the evidential purpose.
Suspect Yaw Montom will be arraigned at Atebubu District magistrate on 23/08/21 to be remanded into police custody to assist with the investigation.
Source: Ghana/Starrfm.com.gh/103.5FM