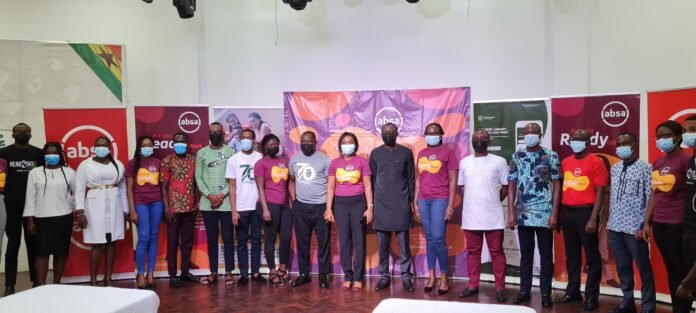 Absa Bank Ghana continues to show its commitment to addressing critical skills development as it announces a partnership with Ghana Library Authority (GhLA) to make e-learning resources on skills development accessible to 10,000 young Ghanaians.
Through the partnership, the youth will have the opportunity to undertake skills development courses on the Ghana Library Authority online portal under the four modules of Absa ReadytoWork programme; Entrepreneurial Skills, Money Skills, People Skills and Work Skills.
The ReadytoWork e-learning toolkit is designed to equip participants with soft skills such as critical thinking, emotional intelligence, excellent communications skills among others, to help transition young people smoothly from academia into the world of work.
This collaboration would also allow the two organisations to groom a cohort of mentees, follow their career path and track their development.
Launching the Absa-GhLA ReadytoWork programme, the Chief Executive of Ghana Library Authority, Mr Hayford Siaw said the partnership initiative seeks to promote life-long learning, acquisition of skills and job opportunities amongst the youth.
According to him, the partnership with Absa Bank will help scale-up ReadytoWork online learning programme to many young Ghanaians. "Our collaboration with Absa will help empower young Ghanaians with economically desirable and sustainable skills which are vital in helping to address the challenges faced by unemployed youth."
"The Ghana Library Authority for the past three years has embarked on the journey to connect Ghanaians to online learning resources. Technology has taking over the way we do things and our organisation has been advancing and assisting people in accessing digital learning resources which is in line with the Authority's objective of promoting literacy," said Mr. Siaw.
Commenting on the partnership, Nana Essilfuah Tamakloe, Marketing and Corporate Relations Director at Absa Bank Ghana said: "Embracing foundational soft skills remain critically important as we consider our capabilities to adapt quickly to change. At Absa, our purpose is to bring possibilities to life by helping people to get things done; and we have identified the need to upskill the 21st century youth with relevant skills to transition from learning to earning."
"The opportunity created by the Ghana Library Authority fits well into Absa's skills development strategy of empowering young people to contribute meaningfully to national development. The ability for young people to think critically, analytically and creatively with emotional intelligence and excellent communications skills are very vital to the success of any youth entering into the world of work or being an entrepreneur," Mrs. Tamakloe added.
Over the past five years, Absa Bank has invested about GHs5 million into its Readytowork programme and has impacted more than 40,000 young people.
Source: Ghana/Starrfm.com.gh/103.5fm