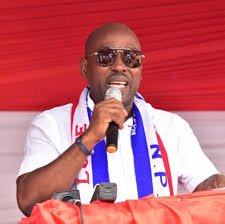 The Volta Regional Chairman of the ruling New Patriotic Party, Makafui Kofi Woanya has cautioned persons who may be nominated as Municipal and District Chief Executives (MDCEs) by President Akufo-Addo to be cautious and measured in their celebrations so as not to disintegrate the party in the region.
After several months of waiting, President Akufo-Addo is set to announce the list of nominees at a press briefing expected to be addressed later today by the Minister for Local Government, Decentralisation, and Rural Development.
Ahead of the announcement, Mr. Woanya in a statement issued by him this morning, believes whoever gets the nod to serve will be the best choice to help government deliver on its mandate and transformational agenda, thus, must be given the needed support.
"The President is the sole appointer and he alone has the prerogative to select those who must help him deliver on his mandate and transformational agenda. The opportunity to serve is a privilege and not a do or die affair," the statement read.
Mr. Woanya is also urging the party in the region to accept the nominees and also help in getting them confirmed by the Assemblies.
"There always will be a better tomorrow; the longer we stay in power, the greater the opportunities and the chance for us all to take our turn. Let's eschew acrimony and rancour. There will be no winners nor losers in this process. Those who will be nominated will need the prayers and support of all of us to succeed."
He further urged the potential nominees to be "measured, magnanimous, and gracious" in their reactions when the announcement is made later today.
The NPP in the Volta region remains and peaceful ahead of the announcement but many political watchers are predicting possible fallouts when the nominees are finally announced.
Source: Starrfm.com.gh/103.5fm/Faisel Abdul-Iddrisu