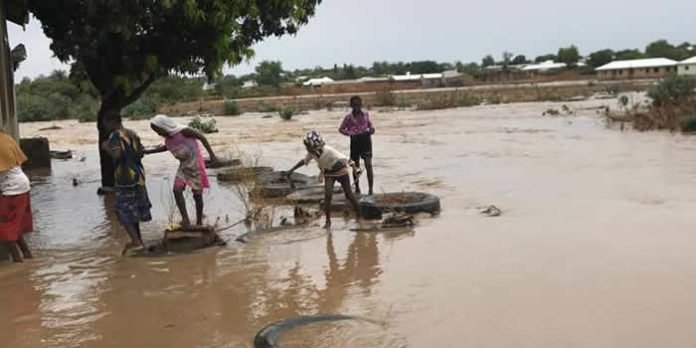 Nyamekrom a suburb of New Juaben South Municipality in the Eastern Region has been hit again by a devastating flood which has affected a makeshift bridge connecting the community to Koforidua township, and almost submerged homes.
A river that flows across the Nyamekrom road overflowed its banks on Friday evening and flooded the main road.
The flood reportedly carried away a makeshift bridge constructed by the residents a few weeks ago after a similar flood washed away a portion of the road.
Many residents including workers and school Children were stranded Saturday morning as cars could not cross the road.
According to the Assembly, the flood situation is serious which needs the Central government's intervention.
The floods have also caused damage to many household properties in the affected area.
Some residents who were trapped were rescued to safety hence no casualty was recorded.
Due to the makeshift bridge, big trucks including waste vehicles are unable to cross to the community to empty dustbins for over a month now creating serious sanitation challenges in the community.
The youth of Nyamekrom are seething with anger out of frustration.
They have threatened to embark on a massive demonstration to demand development in the area.
Vice President Dr Mahamadu Bawumia cut sod on October 27, 2020, for the construction of the 10.1 kilometres Koforidua-Nyamekrom-Supiriso Road in the New Juaben South Municipality of the Eastern Region.
But work has been at a snail pace. Residents believe, if the bridge is reconstructed and widened as part of the road project, and the river dredged the flood situation will be mitigated.
Many parts of New Juaben South Municipality continue to experience flooding whenever it rains despite a Ghc16 million cedis Nsukwao Basin Drainage facility recently constructed to mitigate the impact of the flood.
Some Civil Engineers have cited shoddy work by the contractor. A ten (10) year old class three pupil carried away by the floodwaters on Tuesday is yet to be found.
Source: Ghana/Starrfm.com.gh/ Kojo Ansah