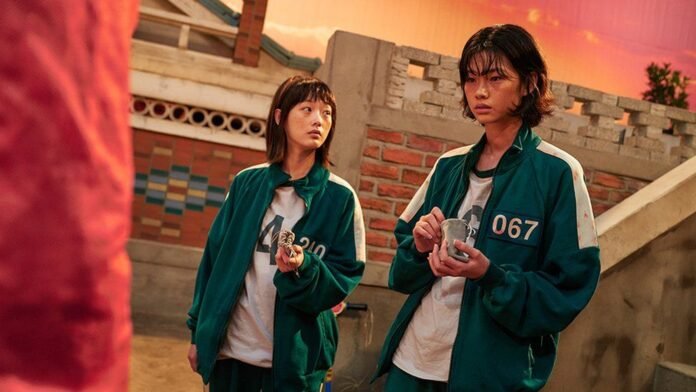 We all knew it was coming, but now it's official: Squid Game has become Netflix's biggest ever series launch.
The Korean drama was watched by 111 million users in its first 28 days, knocking Bridgerton (82 million) off the top spot.
Netflix counts a view as anyone who's watched two minutes of an episode.
Netflix's vice president for content in Korea, South East Asia, Australia and New Zealand says the show's success is "beyond our wildest dreams".
Minyoung Kim told CNN: "When we first started investing in Korean series and films in 2015, we knew we wanted to make world-class stories for the core K-content fans across Asia and the world.
"Today, Squid Game has broken through beyond our wildest dreams."
The nine-part series, which debuted in September, tells the story of a group of misfits taking part in a series of children's playground games.
There's a prize of 45.6bn Korean won (£28m) up for grabs, which doesn't sound too bad until you realise if you lose, you get killed.
From celebrities to sports stars, everyone's been talking about Squid Game.
The show's actors have shot to international fame – Jung Ho-yeon, who plays Sae-byeok, has gained 14 million Instagram followers since it launched on 17 September, Forbes says.
So what's the secret to the drama's success?
Warning – the rest of this article contains some mild spoilers..
She feels the characters and intense acting keep you connected to the show.
"The actor who plays Seong Gi-hun, his emotion was so raw and it was so interesting to watch."
Seong Gi-hun is a loveable gambling addict with huge debts and facing the loss of his daughter. He's the show's main character.
Chloe says the drama also gives viewers a different perception of South Korea.
"People in general think of South Korea as a big flash country with a lot of rich people, so it's nice to see the other side that is not really spoken about, like the struggle and poverty."
Why is Squid Game so popular?
Similar in some ways to The Hunger Games, or the 2000 movie Battle Royale, the show focuses on a group of people in South Korea desperately in debt.
They're first tricked (then volunteer) into playing a deadly tournament of children's games, realising this may be their only chance to win the money they need to survive.
Chloe Henry is a fan of Korean shows and says Squid Game stands out from the others.
"It's not something that's been done before," the 26-year-old from Sheffield tells Radio 1 Newsbeat.
"With other shows, you can guess what's going to happen whereas this one is more 'wow' – a shock that you weren't expecting."