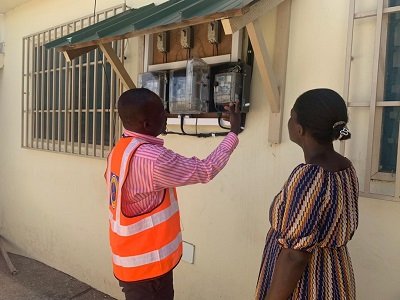 The Electricity Company of Ghana (ECG) says issues with its billing software in a number of previous regions from 2014 to 2017 have been rectified.
Speaking to Naa Dedei Tettey on Starr Today Monday, 22nd November, 2021 the Public Relations Officer for ECG, Mary Sakyi stated that the billing challenges were not specifically with Krobo, Somanya, rather across all ECG operational areas and the issues have been solved since 2017.
"somewhere around 2014, ECG had a billing anomaly and this happened across all ECG operational areas in the previous regions that's Ashanti, Western, Central, Greater Accra, Volta, Eastern Region among others. It got to a point where PURC came in and we have to suspend that billing software. So this isn't an issue that happened specifically with Korbos alone.
"ECG conducted an investigation and submitted our report to PURC and they also conducted their own independent investigation, so the bills from 2014 to 217 was set aside. However, from 2018 till now, these are bills that had no issue with billing, they had no problem or challenges whatsoever. So if the youth are calling for cancellation, let's say from 2014 till now, based on what are we going to cancel legitimately consumed energy from 2018 till now," she quizzed.
Mrs. Sakyi said that through stakeholder engagements by the Ministry of Energy and ECG, the bills from 2014 to 2017 was set aside.
She added it was agreed that a payment plan for the accumulated bills from 2018 till now would be paid in installments.
A group calling itself United Krobo Foundation has demonstrated against plans by the Electricity Company of Ghana (ECG) to introduce prepaid meters in Somanya and its environs.
According to the group, prepaid meters cannot be accepted in the area while there is unresolved impasse over billing.
Convener of the group, Nathan Boryou, told the media that ECG must scrap all outstanding arrears of customers in the Krobo area and sit with the people for the way forward.
"The ECG as an Institution was not able to resolve the problem of their customers within the Krobo area. The grievances of customers are so agitating that more problems may occur in the days ahead".
The group is therefore demanding that "prepaid metering within the Krobo states must stop immediately".