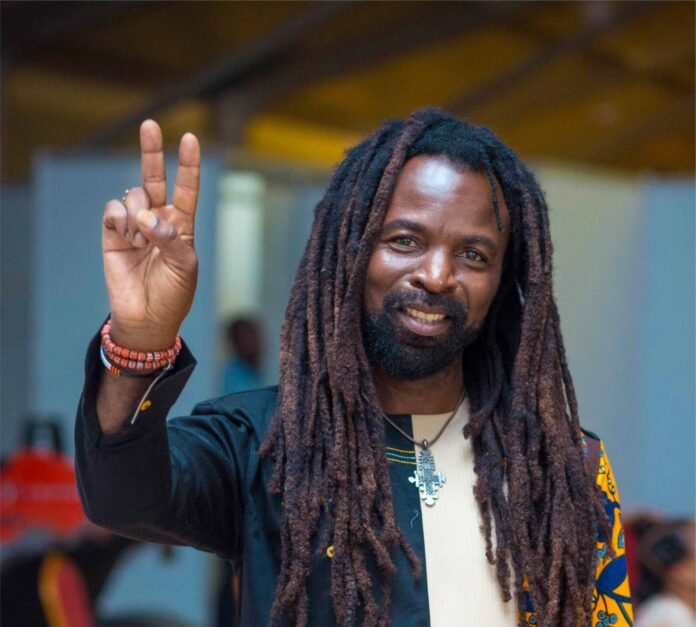 Renowned Ghanaian music star and humanitarian activist Rocky Dawuni has earned a nomination at the 64th Annual GRAMMY Awards nominations in the 'Best Global Music Album' category.
This is Rocky's second nomination as he was previously nominated for "Best Reggae Album" for his "Branches of the Same Tree" in 2016 making him the first Ghanaian musician to be nominated for a prestigious GRAMMY award!! The EP is available on all major platforms https://tinyurl.com/yy7xo2nf
According to GRAMMY, the Best Global Music Album category, is for albums containing at least 51% playing time of new vocal or instrumental Global Music recordings.
The nominations which were announced on Tuesday, November 23, 2021, via GRAMMY's website had Rocky Dawuni's Album 'Voice Of Bunbon, Vol. 1,' in the same category with Daniel Ho & Friends' East West Players Presents, album,  'Mother Nature' album by Angelique Kidjo, 'Legacy +' album, Femi Kuti And Made Kuti,  and Wizkid's 'Made In Lagos: Deluxe Edition album
Rocky will be celebrating the announcement with a home town show with full band on Saturday, December 11, 2021 at +233 Jazz Bar & Grill in Accra, Ghana!!
"Voice of Bunbon, Vol. 1" came on the heels of his most recent full-length album "Beats of Zion" (2019) which received tremendous acclaim around the globe and featured five incredible music videos filmed in Ghana, India, the US and beyond.  Rocky's move back to his home country of Ghana is evident in this latest offering which explores contemporary aspects of local music in a creative quest to extend its global appeal.
According to Rocky, "these new songs were born out of my desire to present and project music that is rooted in the deep cultural traditions of Ghana yet presented in a way that it can relate to the modern world. Bunbon is my home town in Northern Ghana. My musical career has always been firmly inspired by my upbringing in the royal family of Bunbon and being educated in the indigenous ways. This exposure to cultural appreciation has served as an important part of my worldview and music. My vision for this EP is to present a globalized version of African culture. It also represents my maturity over the years as a voice for social consciousness. In a time of uncertainty, we need songs and hymns that can touch our emotional nerve and remind us that love and hope are an indestructible aspect of the human experience that no amount of fear can take away."
The 8 song EP explores the diversity of his "Afro Roots" sound fusing modern and traditional musical trends in Ghana and across the continent. "Voice of Bunbon" is a diverse sonic experience with songs ranging from acoustic to beat-driven anthems to cultural explorations utilizing aspects of Afrobeats, Highlife, Reggae, Soul, Pop and beyond. The inspirational words to the songs focus on love, resilience, faith, joy and hope. Running through the EP is a theme of empowerment, urging the listeners to think critically on current issues.
Three videos have been released for the EP – the first "Ghost Town" shot in Los Angeles, CA by photographer Casey Bridges (son of legendary actor Beau Bridges) which is a poignant tribute to 2020 as well as "Beautiful People" which was shot by rising Ghanaian cinematographer Slinghot in Rocky's home village of Bunbon, Ghana which explores how "a deep sense of appreciation and gratitude can shift our gaze to recognizing our personal and communal power." The most recent video for the classic Palmwine Highlife song "Woara" was released this fall. ​"Woara" which means "you or it's you" is sung in the local Akan dialect of Twi. It is a love song that uses its call and response style to express the beauty and triumph of being in love. In a time when divisive rhetoric is on the rise and the political climate prefers to build walls over bridges, Rocky's music is a refreshing message about global unity and a worldview of oneness. http://www.rockydawuni.com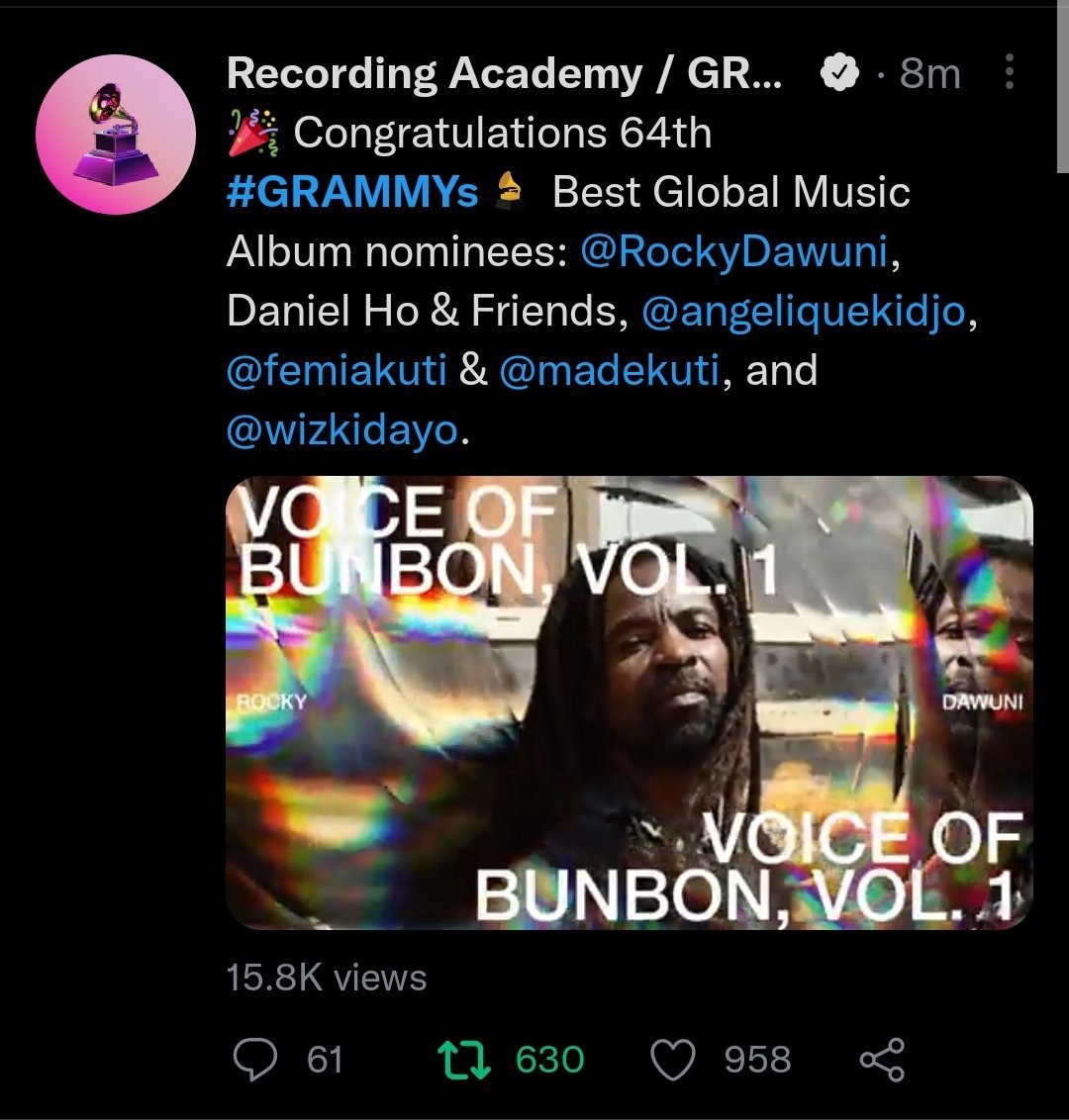 About Rocky Dawuni
Rocky Dawuni, has shared the stage with Stevie Wonder, Peter Gabriel, Bono, Jason Mraz, Janelle Monae and John Legend, among many others. Named one of Africa's Top 10 global stars by CNN, he has showcased his talent at prestigious venues such as The Kennedy Center in Washington, D.C. and The Hollywood Bowl in Los Angeles.
Dawuni's eloquence, cultural diplomacy and successful melding of music and activism have led him to become a passionate spokesperson for various global causes. He has joined forces with Product (RED), UNICEF, the Carter Center, and the UN Foundation. He has worked on campaigns focused on Guinea worm eradication, environmental issues, women's health and education, HIV Aids advocacy, peacebuilding and clean water.
In 2012, Dawuni has appointed the Tourism and Cultural Ambassador of Ghana and World Ambassador for the Musicians Union of Ghana. The same year, he was named a United Nations Foundation Ambassador for the Global Alliance for Clean Cookstoves, an initiative launched by Hillary Clinton, alongside actress Julia Roberts and chef José Andrés.
In 2013, Rocky performed at the United Nations Climate Change Conference (UNFCC) in Warsaw, Poland in front of the United Nations Secretary-General Ban Ki Moon and delegates from around the world. He also has served on a Brookings Institute think tank on cultural diplomacy (Timbuktu Action Group) as part of the efforts to restore Mali's famed Festival Au Desert and was invited by Aegis Trust and the Kigali Genocide Memorial Center to Rwanda to meet the Minister of Youth and Culture and visit the Gihembe refugee camp in order to highlight Rwanda's shinning efforts to heal the wounds of the past.
Rocky was designated a UN Goodwill Ambassador for Africa at a beautiful concert and designation event at the UN Headquarters in Nairobi, Kenya in August 2018 held during the Global Landscapes Forum with dignitaries from all over the world.
Dawuni's sixth album, "Branches of the Same Tree," was released worldwide on March 31st, 2015 by the Cumbancha record label and was subsequently nominated for a GRAMMY for "Best Reggae Album" at the 58th Annual GRAMMY Awards 2016. "Branches" continues to bring him an even wider international audience. Reflecting his maturity as an artist, the album highlights Dawuni's ability to communicate a universal, uplifting message that crosses borders and reaches out to the hearts of millions. Branches feature the Afro Dancehall mashup "African Thriller" and its striking accompanying video as well as  "Shine A Light"   which is a welcome bit of joy in these troubled times.
On January 25, 2019, Rocky released the first single and title track to his much anticipated 7th studio album entitled Beats of Zion with its striking accompanying video shot in Jamestown, Accra (Ghana). The full album dropped on March 8, 2019 through Six Degrees Distribution with the release of the second video from the album "Wickedest Sound" which features Ghanaian dancehall star Stonebwoy. "Beats of Zion" has been receiving rave reviews from Afropop Worldwide, World Music Central, Medium.com and PopMatters. The track "Burn One" from the new album was named  "Top Tune of the Day" on tastemaker station KCRW and appeared on TNT's hit TV drama "Animal Kingdom." Another track from the album "Let's Go" is the theme song for Cadbury Canada's Bicycle Factory Campaign 2018 and the beautiful 360-degree video from the song has already reached over 1 million views on YouTube.  In a time when divisive rhetoric is on the rise and the political climate prefers to build walls over bridges, Rocky's album "Beats of Zion" is a refreshing message about global unity and a worldview of oneness.
Source: Ghana/Starrfm.com.gh/ 103.5FM