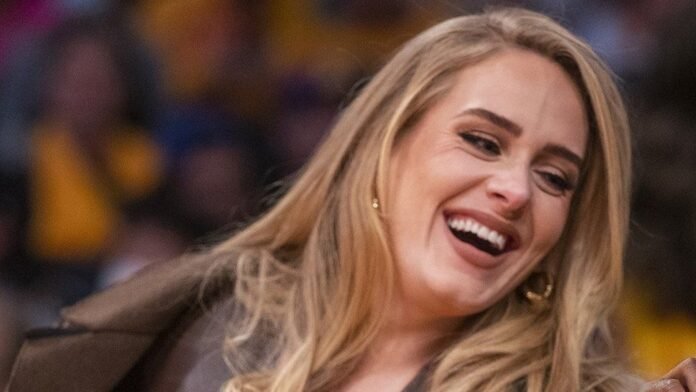 Adele's 30 was the best-selling album of 2021, after just six weeks on sale.
The star sold more than 600,000 copies of her so-called "divorce album", with 80% of those sales on CD and vinyl, bucking the trend towards streaming.
However. the total falls far below the 800,000 copies her previous album, 25, sold in its first week.
The discrepancy illustrates how the music industry has become dominated by singles, thanks to streaming, which now accounts for 83% of consumption.
A record 147 billion tracks were streamed in the UK last year, up 5.7% from 2020.
In June, the country saw its first week in which audio streams topped the 3 billion mark – a feat that was repeated three times in December, record labels association the BPI said.
Just 10 years ago, in 2012, only 3.7 billion songs were streamed over the entire year.
Ed Sheeran had 2021's biggest-selling single, Bad Habits. US pop sensation Olivia Rodrigo had the second and third-biggest songs, with Good 4 U and Drivers License.
All of the top five were by solo acts, without featured artists, for the first time since 2009.
Eight of the top 10 albums were from British musicians. Ed Sheeran took second place with = (Equals); and Abba came third with their comeback record Voyage – which was the year's biggest-seller on vinyl.
Perennial best-sellers by Queen, Fleetwood Mac and Elton John held on to their positions in the top 10, thanks to buoyant streaming numbers.
The overall recorded music market – including physical sales and digital income – was up 2.5% last year. CD sales fell to a 33-year low, with 14 million discs sold. Album downloads also fell, to 4.6 million; while vinyl sales were up 8% to 5.3 million.
But while record labels will be delighted with the growth, especially in streaming, there is disquiet amongst artists about how the profits are divided up.
The #BrokenRecord campaign, which was formed to highlight problems with the way streaming revenues are distributed, resulted in a major parliamentary inquiry last year.
The BPI's end-of-year report mounted a defence of the streaming's financial model, saying that, in 2021, almost 2,000 artists were streamed 10 million times in the UK alone; compared with 1,798 artists in 2020 and 1,537 artists in 2019.
At the top of the leaderboard, 180 different artists had over 100 million streams last year – the equivalent of selling 100,000 CDs.
"The rise of streaming has empowered more artists than ever – from all backgrounds and eras – to build new fanbases around the world and to forge successful careers in music," said the BPI's chief executive, Geoff Taylor.
The BPI has also warned that government intervention into the market could "negatively impact performers, jeopardising the [music industry's] hard-won return to growth after years of decline".
However, smaller acts like Nadine Shah told parliament that streaming revenues are not enough to "keep the wolf from the door", especially after the pandemic wiped out their touring income.