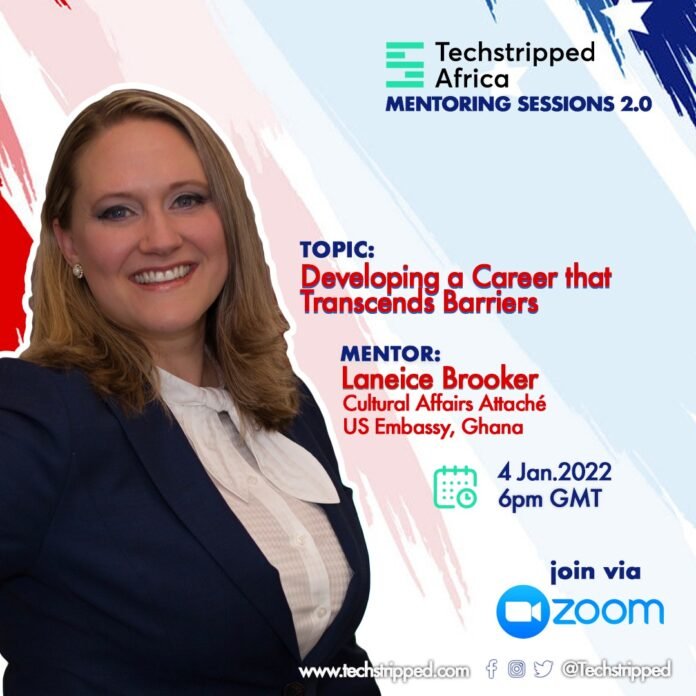 Students from diverse walks of life across Ghana, South Africa and Uganda have been taken through a series of technical and non-technical mentoring sessions by some of the most renowned names on the continent.
The training that started in the last 8 weeks of 2021 is aimed at shaping the minds and skills of these students as they prepare to make career or business choices when they graduate.
The final session of the Mentoring Sessions 2.0 is scheduled for today Tuesday, 4th January 2022 and it will feature the Cultural Affairs Attaché at the US Embassy Ghana, Mrs. Laneice Brooker.
She will be sharing with the students how one can develop a career that transcends barriers, and her rich experience gathered from working in multiple countries will be brought to bear to help the students have a global dominance mindset.
Laneice oversees 26 educational and cultural exchange programs for the US Embassy Accra, as well as manages a federal grants program for Ghanaian beneficiaries in the interest of the United States of America.
She has a well of knowledge and wisdom for the students to tap into on this final session. The session will start at 6pm and everyone is invited to join via the zoom link https://bit.ly/3qyqOty.
The Mentoring Sessions 2.0 is brought to you by Techstripped Africa (https://techstripped.com), a startup accelerator and tech advocacy network founded by Kwame Owusu Ansah, a tech evangelist and 2021 Mandela Washington Fellow.
Source: Ghana/Starrfm.com.gh/103.5FM/Isaac Dzidzoamenu