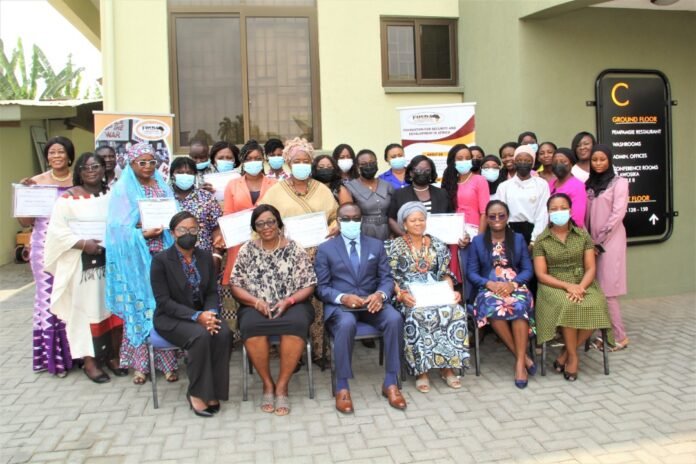 The Foundation for Security and Development in Africa (FOSDA) has successfully graduated 29 women from the 16 regions of Ghana on conflict mediation and other security resolution mechanism.
The objective of the training was to enhance their meaningful participation in the peacebuilding process at both national and international. The participants were members of the Regional Peace Council, Civil Society, and the Ministry of Women, Gender and Social Protection.
The training started on the 12th of October 2021 with 35 women for a two-day physical training and then continued with 10-days sessions of weekly online training sessions which ended on the 3rd of February 2022. An Internationally distinguished mediator Mrs. Janet Adama Mohammed took the participants through the training.
The Board Member of FOSDA, Mrs. Magdalene Kanne during his address bemoaned low participation of women when it comes to women participation, engagement, and representation in conflict management and resolution process.
"Even though scientific data support the fact that peace agreements are most sustainable when women are involved. According to the 2020 UN report on women constitute only about 13percent of negotiators, 6percent of mediators, and 7percent out of 10 peace processes do not include women mediators," she added.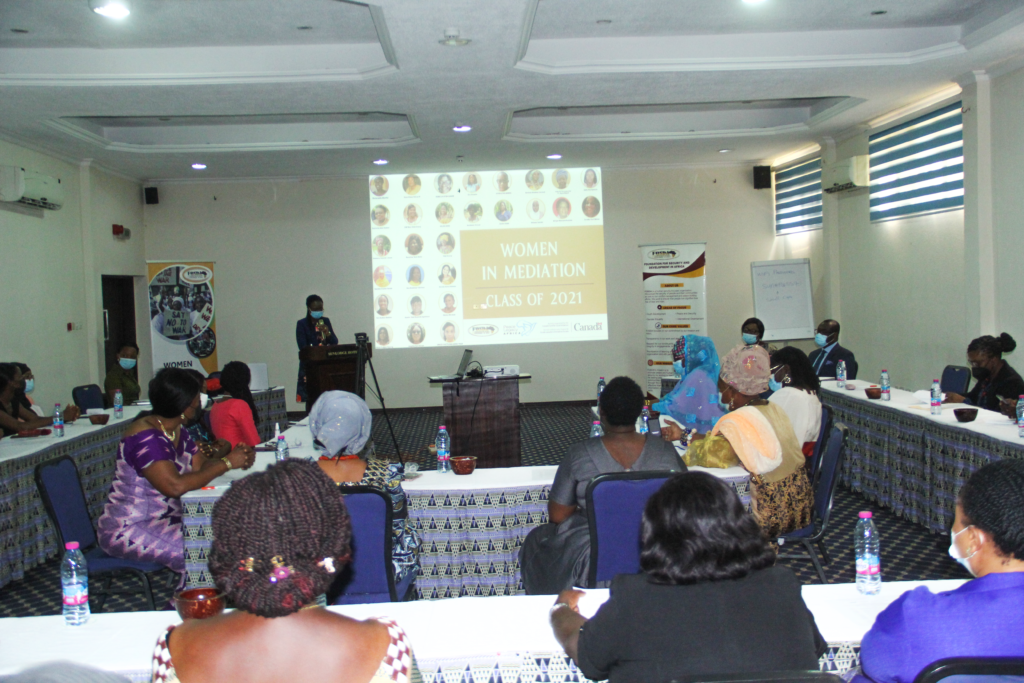 She continued "We are not ending here, together as a group we have decided to form a national network of women mediators to join the women mediators across the Commonwealth and other National and International Groups. We are also committed to mentoring more young women to be interested in women's peace and security issues."
Mrs. Kanne said FOSDA and Peace Legacy is committed to contributing toward the implementation second National Action plan on UN Security Resolution 13, 25 and requested for support in achieving this target.
"The women are they are ready and capable to engage to build lasting peace. We, therefore, call for more support in building the capacity of women as well as providing them with the opportunity to participate. We also use this opportunity to call for more women in the Regional Peace Council of Ghana.
"We are proud of our new mediators, they have shown enormous tenacity and commitment in completing this training," she added.
She commended the Canadian High Commission, the National Peace Council, Peace Legacy Africa for their immense support in having successful training for women across the country.
The graduation ceremony held at Sunlodge Hotel in Accra had the Chairman for National Peace Council, Rev. Dr. Ernest Adu-Gyamfi presenting certificates to graduating women and encouraged them o strive for more in leadership and peace-building processes.
Source: Ghana/Starrfm.com.gh/103.5/Isaac Dzidzoamenu