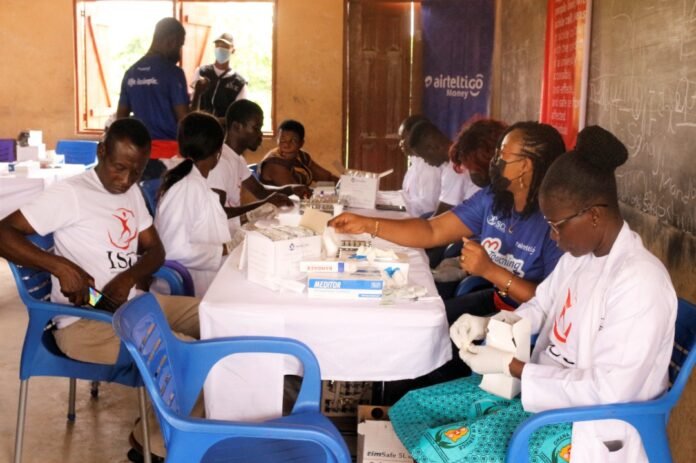 International Sickle Cell Centre(ISCC), Ghana in collaboration with AirtelTigo, undertook a sickle–cell disease sensitization and screening exercise at the Ajumako- Mando Traditional Area in Ajumako over the weekend.
This is in support of measures being taken to raise awareness on sickle–cell disease (SCD) in Ghana and to improve the lives of people living with the disease.
Speaking during the sensitization and screening exercise, the Head of Brand and Communication at AirtelTigo, Nancy Assor Asiedu-Amrado said, "Approximately 18,000 children are born each year in Ghana with sickle cell disease (SCD), an inherited blood disorder.  Through our corporate social initiative, AirtelTigo Touching Lives, we are pleased to collaborate with ISCC to promote sickle cell education and embark on today's screening in the Ajumako-Mandotraditional area.
This indeed marks the beginning of a great collaborative effort on tackling sickle-cell disease in Ghana. As we endeavour to deliver the best and quality telecommunication service in Ghana, we are also driven by our mantra of making life simple for our customers through social investments that create value for the society in which we operate."
Addressing the community, Dr. Mary Ansong, Founder and President of the ISCC, thanked the community members for welcoming the team and showing interest in SCD.
She stated that, "One of the major problems in tackling the morbidity and mortality rate of sickle-cell disease in Ghana and Africa is the lack of awareness of the condition and the needed interventions to save lives. It is therefore important for Ghana to implement a universal newborn screening program as well as the screening of the entire population for the sickle-cell gene. This is because early detection helps institute the needed measures that allow people living with the disease to enjoy a fuller and healthier life."
Dr. Mary applauded AirtelTigo, Sysmex West & Central Africa, and Wesley Methodist Church for coming on board to support ISCC during the SCD screening and to help raise awareness in Ghana.
The community members expressed their massive appreciation to the ISCC, AirtelTigo, and their partners for the kind gesture towards their well-being.