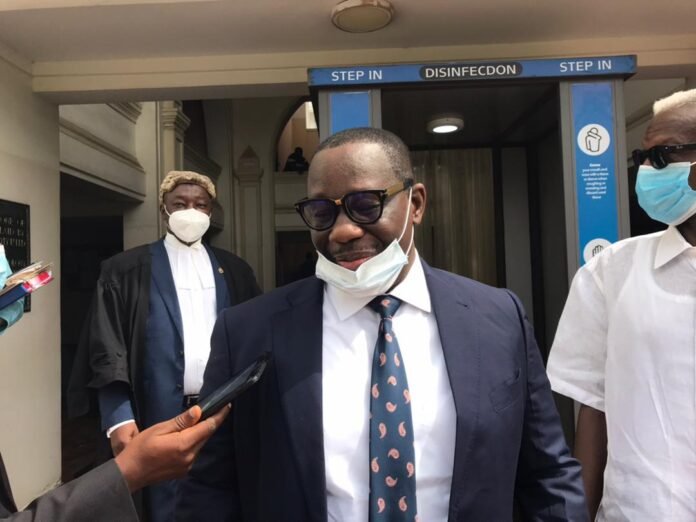 Lawyers of former Director General of Social Security and National Insurance Trust (SSNIT) Ernest Thompson have subjected the acting Managing Director of SSNIT in charge of Management Information Systems (MIS) to vigorous scrutiny.
Godson Kwadzo Ladzekpo is the first prosecution witness called by the state in the case in which Mr Thompson and four others are standing trial.
The acting director as part of his testimonies tendered in tender documents for procurement, a tender valuation report and some e-mail correspondence from one of the accused persons.
The witness also tendered in list of amendments made to the tender document for the OBS.
The focus of Lawyer Samuel Codjoe of Mr Ladzekpo was on concerns he supposedly raised regarding the purchase of the OBS system.
In court on Friday, May 20, when it was put to him that the concerns he raised were not about hardwares which had already been supplied, but rather additional supply on hardware as is contained in paragraph 112 in his witness statement, the witness disagreed, saying, "my concerns were based on hardwares that were supposed to be supplied anf the terms of the contracts that were tendered by the supplier as additional hardware to be supplied.
It was also the case of counsel that the project manager (2nd Accused) in view of the deficiencies, the tender documents that provided that SSNIT was to provide servers for the OBS project, it became necessary to undertake an audit and map the hardware at the data centre with OBS solutions.
The witness said, that's what is here.
When it was also put yo him that, in ICT, it is very basic that it is the software which will determine the hardware to purchase, the said, that's not correct.
"Softwares do not determine specifications for hardwares. If I want Microsoft Office for my laptop, I will go and purchase Microsoft copies and put them on my laptop. But, there are some propriety soft wear that require specific hardware and I do not agree with the statement here that the tender documents provided that SSNIT was to provide the servers for OBS project.
He explained further that SSNIT indicated that servers, were being provided by the Data Centre ICT project and that these servers were going to be used for the software. An option was provided for the tenderers to review the specifications of these servers and then provide any additional hardware that will require what their solution is in their proposal.
The five have all denied their respective charges including willing causing financial loss to the state in the $66million SSNIT Operational Business Suite (OBS), which was meant to revamp the operations of SSNIT through Information communication technology.
The court presided over by Justice Henry Anthony Kwoffie, a Justice of the Court of Appeal sitting with an additional responsibility as a High Court judge has been adjourned the case to June 2 for further cross-examination by counsel.
Source: Ghana/Starrfm.com.gh/Murtala Inusah