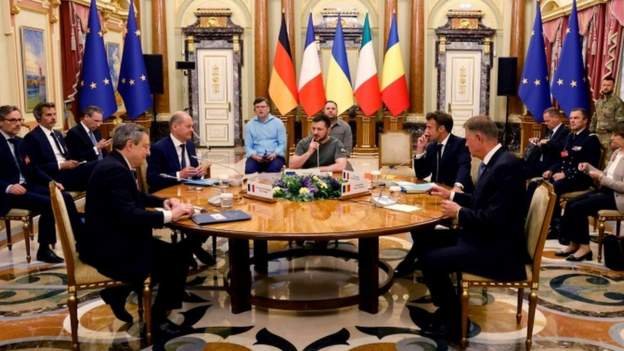 Ukraine's bid to join the European Union has been given a major boost with recommendation that it be granted candidate status.
European Commission says its recommendation is made on the understanding that Ukraine first makes reforms.
Commission chief Ursula von der Leyen says Ukraine has demonstrated its aspiration to live up to European standards.
It comes after four European leaders travelled to Kyiv on Thursday and publicly supported Ukraine's admission to the bloc.
President Putin is due to give a speech at an economic forum in St Petersburg later with Russia under heavy economic sanctions from the West.
Ukraine says Russia is concentrating its forces for an assault on the eastern city of Slovyansk, while fighting is continuing for control of Severodonetsk.
France has not received any natural gas from Russia since June 15, its network operator says. Other European countries also say supplies have been reduced.
Source: BBC