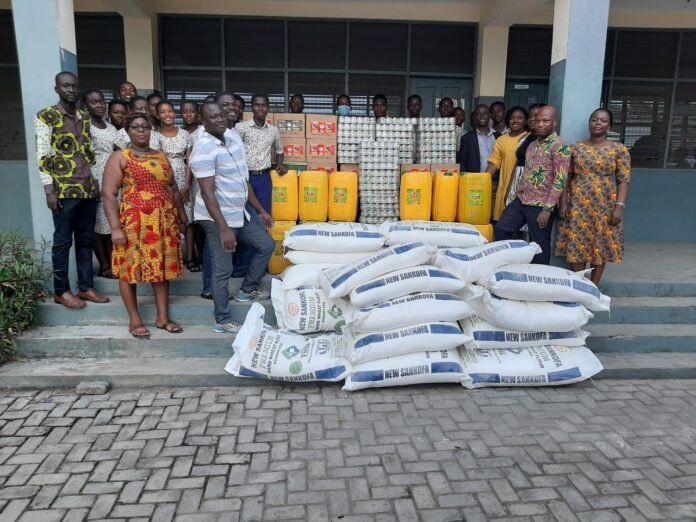 The Church of Pentecost has provided Ghc30,000 worth stock of food items to Pentecost Senior High School in Koforidua to ameliorate the food shortage situation in the school.
The school received the Ghc30,000 cheque through the Koforidua Area Head Apostle Samuel Osei Asante to purchase food items which include 40 Cartons of evaporated milk, 30 boxes of Mackerel, 20 of 25litre gallons of Vegetable oil and 20 bags of Flour.
"When it was reported to the Church that we have food challenges, the Chairman of the Church of Pentecost Apostle Eric Nyamekye directed the Area Head Apostle S.O Asante to Issue cheque of Ghc30,000 to the school to support the food challenges and indeed as promised the Area Head did exactly so and a cheque was issued in the name of the school. Last Friday, we were able to use the money to purchase some food items that were in dire need".
Headmaster of Pentecost Senior High School Peter Attah Gyamfi expressed gratitude to the Church of Pentecost for the intervention and urged other churches, old students associations, NGOs to emulate and support the schools in this difficult times.
"We want to use this platform also to tell other churches to emulate what The Church of Pentecost has done and also to MPs, Chief Executives and especially Old students to come in to support the government's effort. When Covid pandemic broke some churches and some organizations supported government so now that we have food challenges in the schools we expect that these stakeholders will also come to our aide and support government".
Eastern Regional branch of the Conference of Heads of Assisted Secondary Schools (CHASS) sent a resolution to the Ministry of Education after an emergency meeting on Tuesday July 12,2022, on the shortage of food in the schools and recommended for Parents be allowed to feed their children or the schools temporarily closed down until the situation is fixed .
However, according to Mr. Attah Gyamfi who doubles as the Eastern Regional chairman of CHASS, about 25 out of 100 Senior High Schools in the region have so far received total of 2,038 bags of rice, 50 schools have received Sugar and cooking oil.
"For the past five days they have started distributing some food items in the region. Yesterday I had information that about 25 schools have received rice and sugar. The rice totalling 2,038.Then also same yesterday night I was informed they were offloading 800 more to be supplied to the schools that were in dire need of rice.With Sugar ,about 50 schools have received Sugar. Yesterday we had zoom meeting with the Minister and we were promised from today schools will received other food items"
Source : Ghana/StarrFM.com.gh/103.5FM/Kojo Ansah