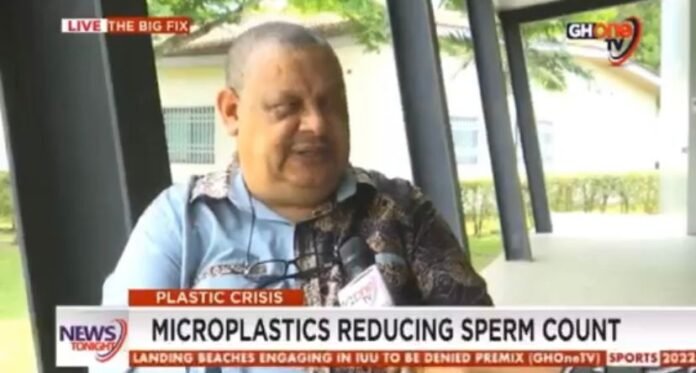 Discarded plastics are not only harming the environment and water bodies but experts say it could also affect human reproductive health too.
Research suggests that the presence of micro plastics in the environment is affecting the quality and quantity of sperms produced in men.
Auntie Mary buys groceries at the Agbogbloshie market in Accra.
It's been her preferred market center for about ten years.
She brings a head pan to carry her foodstuff anytime she comes here.
But she still leaves the market with a pan full of black plastic bags always.
"Whatever I buy they wrap them in plastic for me. There's a clutter of plastics in my home as a result."
Across many markets in Ghana, traders use plastic bags to wrap groceries and other food stuff for their customers.
Even when you bring a basket or head pan to the market like Auntie Mary, your groceries will still be wrapped in a plastic bag.
Single use plastics are the most prevalent types of waste found in the environment in Ghana.
"Ghana generates more than 1 million tons of plastic waste every year. Only 5 percent of it is recycled- most end up at the beaches and landfills.
Experts are concerned that if plastic pollution is not tackled effectively now, it could get worse in a few years."
Research shows that the most emerging threat posed by plastic pollution is the breaking down of plastics into smaller pieces called micro plastics.
Micro plastics are highly prevalent in sea food due to the vast quantity found in the ocean and in salt, honey, and sometimes in the air.
Research indicates that up to 110 micro plastics are found in the gut of a single fish.
Experts say this should be a major concern because it means that plastics are moving up in the food chain.
"The plastics that enter the sea have so many impacts, the fish mistake the micro plastics as food. the salmonella's sardines anchovies we smoke them whole and consume them so whatever they eat we eat. We are yet to even focus on the chemical aspect of things."-professor Chris Gordon, country engagement lead climate and development knowledge network.
But perhaps the most alarming is how micro plastics are affecting reproductive health, especially that of men.
The oceans serve as a means of food and livelihoods for many people in Ghana.
But fishermen in the country are now catching more plastic waste than fish whenever they go to the sea.
"When we cast our net, the amount of plastics in there outweighs our catch . We need to change our attitudes if not soon we'll go into the sea and not bring back anything" – Nii Okai fisherman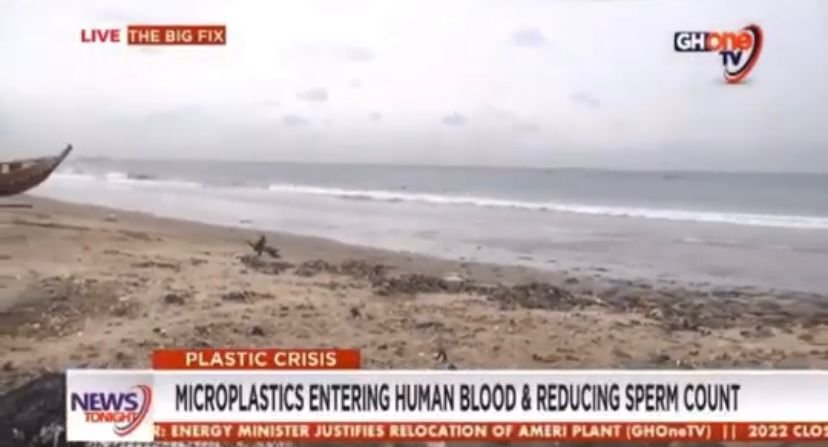 Nii Okai has been fishing for 30 years. He says plastic pollution in the sea was not a major problem in the past.
Experts say by 2050, if the current spate of plastic pollution is not reduced, the amount of fish fishermen catch will be half of what they are catching now.
And this will have a serious effect on a growing population that largely depends on fish for their livelihoods and nutritional needs.
Fati Tetteh is a fish monger in Jamestown in Accra. She is worried about how fishermen complain of the plastic pollution in the sea and believes it could lead to the cost of fish skyrocketing when they do not get enough catch.
"Things are generally hard these days. Some people take advantage to hike prices but realistically if this continues and the fishermen can't make a catch it will affect us."
Ghana has struggled to tackle plastic pollution over the years.
In 2013, the country passed a law to impose a 10 percent tax on the importation of plastic products.
The law required that not less than fifty percent of the revenue generated from the tax should be paid into a fund to be used for plastic waste recycling.
But the law to deal with the plastic pollution menace has not been fully implemented almost ten years later.
Experts like Professor Chris Gordon want young people to be more concerned about the effects of plastic pollution.
He believes they can help drive the change by not only acting responsibly but also demanding the government to enforce laws that protect the environment from plastic pollution.
Report by GHOne TV Nadima Umar Uthman