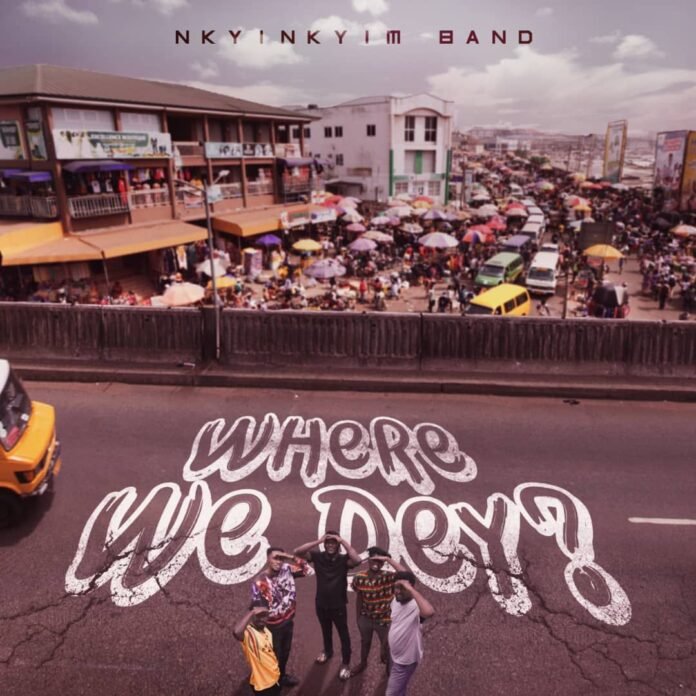 After months of creative compositions, relentless rehearsals, late-night musings, and endless hard work, contemporary music group, Nkyinkyim Band is set to release its debut album dubbed "Where We Dey?".
Lovers of good live band music and fans of Nkyinkyim Band will on August 27, 2022 witness an exhibition of greatness with carefully crafted songs to soothe the soul and get them toe-tapping.
The "Where We Dey" album generally throws the spotlight on Love, life, and the quest of finding one's true purpose. It features music greats like Fameye, Blaqad, and Kojo Nda (veteran highlife musician). The album cuts across all genres, satisfying all the diverse forms of music enthusiasts.
The album release will pave way for the first-ever Nkyinkyim Experience Concert slated for September 24, 2022, in Accra.
About Nkyinkyim Band
Nkyinkyim Band is a Ghana-based band made up of young musicians from different musical backgrounds united through the twist and turns of life's journey as the name of the band suggests.
"Nkyinkyim" is an Adinkra symbol that represents versatility, initiative, and dynamism. It also relates to the proverb which says "Life is a twisted journey". The band thus draws its inspiration from this symbol.
Following in the footsteps of legendary African bands like Osibisa, African Brothers International Band, amongst others, Nkyinkyim is ready to make its mark on the World's Music Stage with a style rooted in Highlife, Afro Beats, Hiplife, Reggae, Funk, and Palmwine music.
The band's compositions are a perfect blend of the old school and the new school.
The band has worked with almost every A-list Artiste and music group in Ghana including but not limited to K. K. Kabobo, Ben Brako, Adane Best, Gyedu-Blay Ambolley, Stonebwoy, Samini, Kwabena Kwabena, Kofi Nti, Afriyie Wutah, Fameye, Keche, Mr. Drew, Krymi and Article Wan.
Nkyinkyim band is led by Kofi Johnson who doubles as a bass player. He is supported by Kwame Akumiah (Keyboardist), George Kaiser (Drummer), Seth Kpodo (Vocals), and Kwame Owusu (Vocals)
Source: Ghana/Starrfm.com.gh