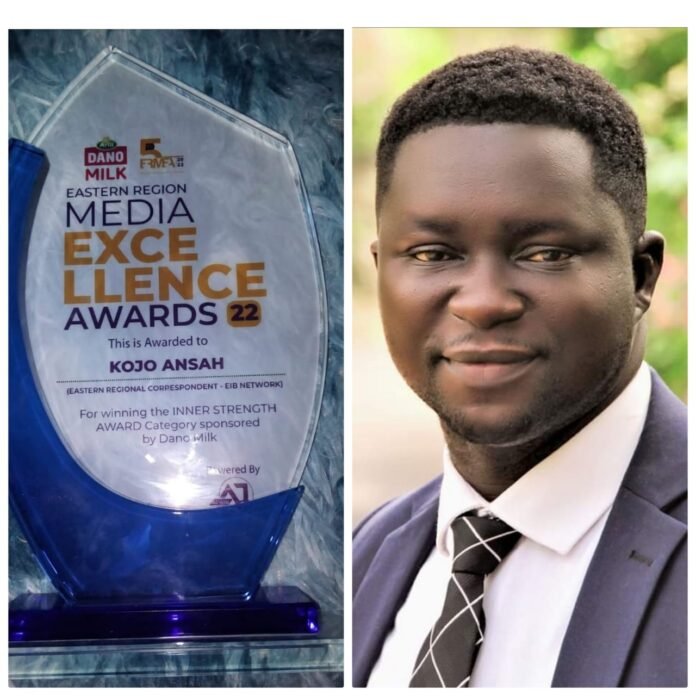 The Eastern Regional Correspondent for the EIB Network Kojo Ansah has been honoured as an outstanding journalist during the 2022 Eastern Region Media Excellence Award held Friday September 1,2022.
Kojo Ansah won the maiden 'INNER STRENGTH' award category instituted and sponsored by the headline sponsor of the awards Dano Milk Ghana to honour trailblazers and fearless journalism.
The Marketing Manager of 'Arla Foods Producers of Dano Milk,  Wilson Agbeko remarked during the presentation of the award that the nominees for the "Dano Milk INNER STRENGTH" category were not subjected to a popular vote by the public but were rather scrutinized by the board on the account of their reportage and stories that require inner strength and boldness without fear or favour and has the tendency to effect a positive change on the society.
"Our brand itself is inner strength. Last year we instituted the inner strength awards that comes with some cash award with the plaque, we believe that for any journalist to be exceptional or to break news or to touch on topics that everyone is careful to touch then it takes a lot of confidence or inner strength for the person to do that so we are instituting this to reward Mr. Kojo Ansah as the first ever winner of the Dano Milk Inner Strength awards," he said.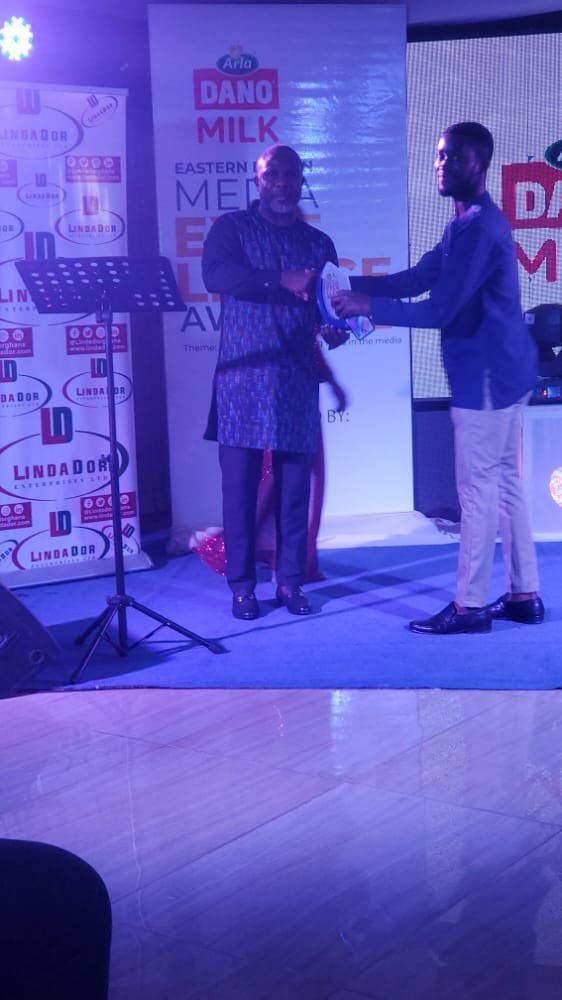 He explained further that the board which instituted the category considered exceptionality on investigative articles and articles which impact development in society.
Kojo Ansah is known for critical, development and investigative journalism. His recent investigation on sex trafficking of Nigerian minors in Koforidua has attracted national and international attention of stakeholders.
Some of the victims have been rescued and repatriated to Nigeria whilst the security are working round the clock to clamp down on the cartel.
Other winners in the various categories of Dano Milk Eastern Region Media Excellence Awards (ERMEA) 2022 by popular votes were :
News Caster of the year- Yaa Agyiewa (Life Fm)
Political program of the year-Mpu ne Mpu (Afram Fm)
Radio/Tv station of the year-Radio 1,
Sports program of the year -(Afeema Fm)
Male presenter of the year- Nana Kwabena Addo,
Female presenter of the year – Yaa Agyiewa
Reporter of the year – Millicent Korantemaa
News program of the year – Akuafo Mmre (Susubiribi Fm)
DJ of the year – DJ Thony,
ERMEA pride personality- Kwame Dadzie (Citi Fm)
Sports presenter of the year – David Akwasi Asihene (Asuogyaman Fm),
Religious program of the year- Nsem So(Passion tv)
Radio/TV manager of the year – Samuel A. Asiedu (Nkunim Fm)
Program producer of the year-General Manucho (Sunrise Fm)
Entertainment show host of the year – DJ Flow (Email Fm)
ERMEA media personality – Tina Baby (Rite Fm),
Mid morning show host – Freeboy (Nkunim Fm)
Promoter of the year – Bright Antwi,
Blogger of the year -Micheal Agyapong Agyapa ( Dailynewsghana.com). etc
Source:Ghana/starrfm.com.gh/ Ansah Stephen