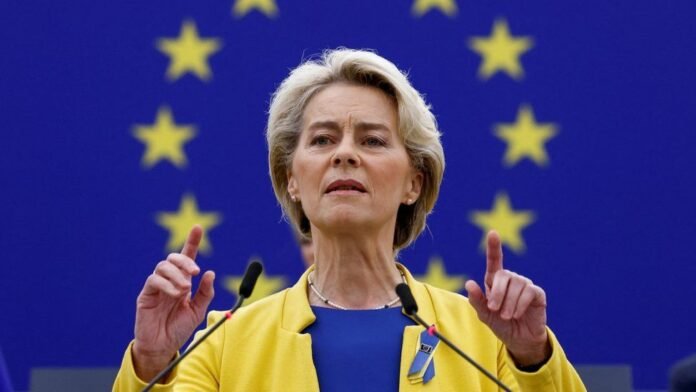 EU chief Ursula von der Leyen has called for cuts to electricity use across the bloc and windfall taxes on energy firms to tackle high prices.
She told the European Parliament that gas and electricity prices had hit all-time highs after Russia's invasion of Ukraine.
She called for electricity consumption to be cut at peak hours by at least 5%.
But plans for a cap on the price of natural gas, a key Russian export to the EU, were put on hold.
The plan outlined in Strasbourg targets "excess revenues" with proposals to skim the profits of low-carbon electricity producers and implement a de facto windfall tax on the oil, gas and coal sectors.
The money raised, estimated to be €140bn (£121bn; $141bn), would go to families and businesses across the EU's 27 states.
The EU's member states will pore over the proposals with hopes of an agreement by the end of this month.
Ms von der Leyen also announced she would be visiting Ukraine again later on Wednesday for talks with President Volodymyr Zelensky, saying: "Europe's solidarity with Ukraine will remain unshakeable."
Mr Zelensky's wife Olena was in the parliament as guest of honour to hear the speech.
Ms. von der Leyen said that "making ends meet" was "becoming a source of anxiety for millions of businesses and households".
"In these times it is wrong to receive extraordinary record revenues and profits benefiting from war and on the back of our consumers," she argued.
Source: BBC