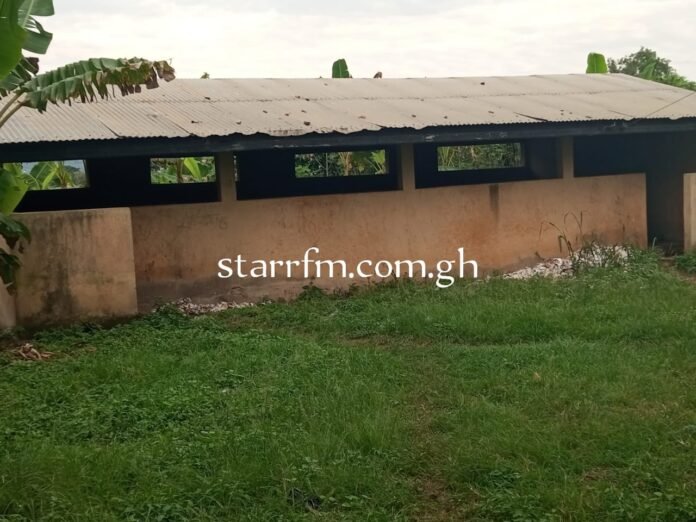 Management of Koforidua Secondary Technical school (SECTECH) has written to the Eastern Regional Directorate of the Ghana Education Service requesting for a temporal closure of the school for the pit latrine facilities to be emptied.
The toilet facilities on campus are full worsening the insanitary condition and exposing students to health risk.
However, it can only be dislodged through manual means. Usually , management of the school hire people from the community to enter into the toilet to use bucket scoop the faecal matter to bury on campus.
It takes days for the exercise to be completed.
The process emits pungent stench which pollutes air quality on campus attracts swarm of flies.
More worrying,is the fact that, the school's  kitchen, dinning hall and canteen are  closer to the the main toilet facility increasing risk of food contamination by the swarm of flies that fly on campus as a result of the desludging of the latrines hence request for temporal closure of the double to safeguard the health of the students.
A source at the Eastern Regional Directorate of the Ghana Education Service said , management is yet to take decision on the request by the school as its await advice from the Director General.
A disguised inspection of the latrines on campus by Starr News Eastern Regional correspondent Kojo Ansah observed horrible conditions never imagined in pedestal of a grade "A" senior high school like Koforidua SECTECH.
The toilet facilities have been littered with feces and papers used by the students.
No dustbin erected on the latrines for students to drop the used toilet papers.
The stench was so nauseating that five minutes could not be spent on the facility.
"The condition of the toilet is very terrible The stench alone is  nauseating.I for instance I had never used pit latrine before at home so I was finding it so difficult to use the facility but I have no option so I mostly hang on the hole I don't squat " a student lamented .
"You have to be remove your uniform and singlet before you enter the toilet facility because the stench will smear your body to the extend that if you enter classroom everybody will noticed you visited the story .This is so bad ". A student met coming out from the toilet said.
The headmaster of the School, Ofori Antwi, neither confirmed or denied the letter written to GES requesting closure of the school.
He said management is aware of the poor conditions of latrines in the school but efforts are being made to address them.
Source: Ghana/starrfm.com.gh/103.5FM/Kojo Ansah