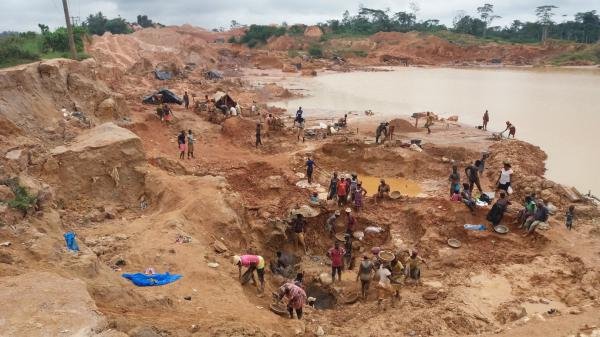 A security analyst, Adam Bonaa has advised the government to take steps in addressing the concerns of the Small Scale Miners Association.
This comes on the back of the two weeks ultimatum given to the government by the Small Scale Miners Association to flash out illegal miners operating in the forest reserves in the country.
According to the miners, they will flash out the illegal miners from the forest if the government fails to do so after the ultimatum.
Commenting on the matter on Starr News, Mr. Bonaa indicated that the laws of the country justifies the actions the Small Scale Miners want to take.
"I think we should take it very seriously. We should treat it as a country very seriously. But I think that they are within the law if they decide to flash out illegal small-scale miners and foreigners and by extension Chinese nationals who are depleting our forest cover and destroying our water bodies.
"The law mandates them if you look at section 12 of the criminal code, the 12.1(B) talks about a private person may arrest without a warrant a person who commits an offence in his presence. The D talks about an offence of injury to public property and water bodies, forest reserve all these names I have mentioned we will refer to as public property," Mr. Bonaa stated.
He continued: "And so, I think the two weeks ultimatum they have given, if the government or whoever is responsible for it refuses to act, I don't think they will be breaching any law if they enter into these areas and arrest all these suspected foreign nationals or suspected illegal small-scale miners and hand them over to the police within a reasonable time. That is what the law says and they wouldn't be breaching any law. The only thing is that the state should not wait for that to happen because the spill over we might not be able to deal with it."
According to the security analyst, the state has been careless in dealing with illegal small-scale miners and the Chinese or foreign nationals who he alleged are destroying the water bodies and forest cover.
Mr. Bonaa therefore advised the State to act fast in dealing with the situation since the consequences and spill-over could be dire and may not be easily handled by the security agencies.
"So, as far as I am concerned the State should for once take up that mantle and ensure that they don't look on while the private citizens decide to invoke section 12 of the criminal code. We shouldn't sit and say go ahead and arrest these people because they are committing an offence that involves injury to public property. Like you referred to, most of these guys are armed, with sophisticated weapons like AK47, some of them have pump action guns, side arms and the list is unending.
"I wouldn't be able to tell what format the arrest is going to be. Are the concerned small-scale miners also going to be armed going there? Then you are likely to have an all-out war because then they are going to go in for probably a shootout. Probably, if that happens then the state is going to come back to its senses and perform its national duty by ensuring that our water bodies are not destroyed."
Source: Ghana/Starrfm.com.gh/103.5FM