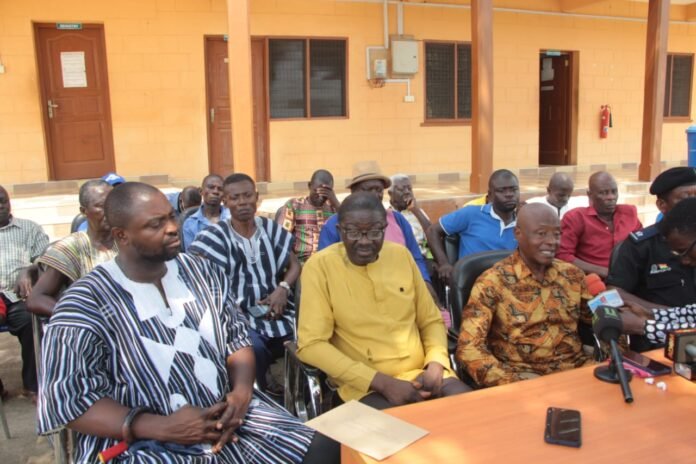 Over 10,000 cattle fleeing troubled Afram Plains South area have invaded Abuakwa North Municipality in the Eastern region.
The herdsmen and the cattle are believed to have used the Fanteakwa North route to the Municipality.
The cattle have invaded farming communities such as Sokode Juaso, kyekyewere, Mpaemu No 1&2 destroying crops of farmers affecting their source of livelihood.
Reports also indicate that the cattle have similarly invaded farms by the Cocoa Research Institute of Ghana (CRIG) destroying scientific crops being used for research purposes.
A joint press conference held in Akyem Kukurantumi Wednesday February 7,2023 by the Municipal Security Council (MUSEC), Chiefs and farmers, the MCE for Abuakwa North Alhaji Umar Bodinga who is also the MUSEC chairman observed that the number of cattle jolting to the municipality keeps increasing creating huge security concerns .
He however declared the municipality as "no go area for Fulani nomadic herdsmen" therefore, issued a 4-day ultimatum for them to leave.
The MCE assured that armed police personnel with support of community members will be mobilized to flush out the herdsmen should they fail to leave after the 4-day ultimatum.
"We are holding this press conference to alert the whole Fulani herdsmen within the catchment areas of the municipality. The owners and their cattle are therefore being given a 4-day ultimatum to voluntarily go back to where they came from. After four days, if they did not take the instruction, we are coming with force to flush them out from the municipality". The MCE said.
Alhaji Umar Bodinga emphasized that MUSEC is taking this proactive action against the nomadic herdsmen to prevent security challenges such as clashes between farmers and herdsmen over destruction of crops, rape, and highway armed robbery that are notorious of areas where nomadic herdsmen operate with impunity.
"The reason why MUSEC take it as a matter of interest is, we have learnt from areas where Fulani herdsmen have taken control classical example like Asante Akyem Agogo, Afram plains south, Afram plains North, and Kwahu East and Fanteakwa North. when the Fulani nomadic herdsmen come into your territory they put hardship on the community because all their food crops will be destroyed then secondly, it increase armed robbery in that community and thirdly increase rape by virtue of of women when they go to farm they rape them" Bodinga stressed .
Some of the farmers said the arrival of the cattle has led to destruction of their crops.
"They have come in their numbers destroying our crops .They come every season by this time around their numbers have doubled. So we support the decision by the Assembly and police to flush them out " Emmanuel Kudjo , Kukurantumi farmers association lamented.
In 2022, the assembly launched "operation coded" to fight a similar situation in the municipality but the number of cattle doubled this time.
Source: Ghana/Starrfm.com.gh/103.5FM/Kojo Ansah