A flagbearer hopeful of the New Patriotic Party (NPP), Alan Kwadwo Kyeremateng says the party needs a presidential candidate who will inspire hope and be accepted by Ghanaians in spite of the current economic crises facing the country.
He said although the Akufo Addo led NPP government has performed marvelously well, the current economic hardship requires a new leader with a refreshing message that Ghanaians will buy into.
"NPP government has done marvelously well in the last six years for instance the introduction of Free SHS, One district one factory, planting for food and jobs , all these policies were initiated by NPP led by Our President Akufo Addo.However we are cognizant of the current economic crises. So in 2024, when President Akufo Addo finishes his term, and as a party we need a new leader, then it is important to get a good message for Ghanaians to understand that in spite of the economic challenges, give us another opportunity to continue to sustain the gains made with various policy interventions introduced," Alan Kyeremateng said.
Alan Kyeremateng emphasized that the conventional eight year cycle change of government in Ghana has not been helpful to sustain gains made in implementation of policies and interventions aimed to leapfrog Ghana's development therefore the need to retain NPP in power in 2024.
"We know that in Ghana it is conventional that after every 8 years, government is changed but respectively Nananom, if we continue to do that it will affect policies introduced by previous government. The policy will not be sustained. The new government will also introduce its own programs.so what I am telling Ghanaians is that, they should renew mandate of NPP in 2024 to sustain the policies till later time to consider if ripped for a new government to come."
According to Alan Kyeremateng, among flagbearer hopefuls seeking to lead the NPP, he carries the clout to be accepted by Ghanaians to retain the NPP in power.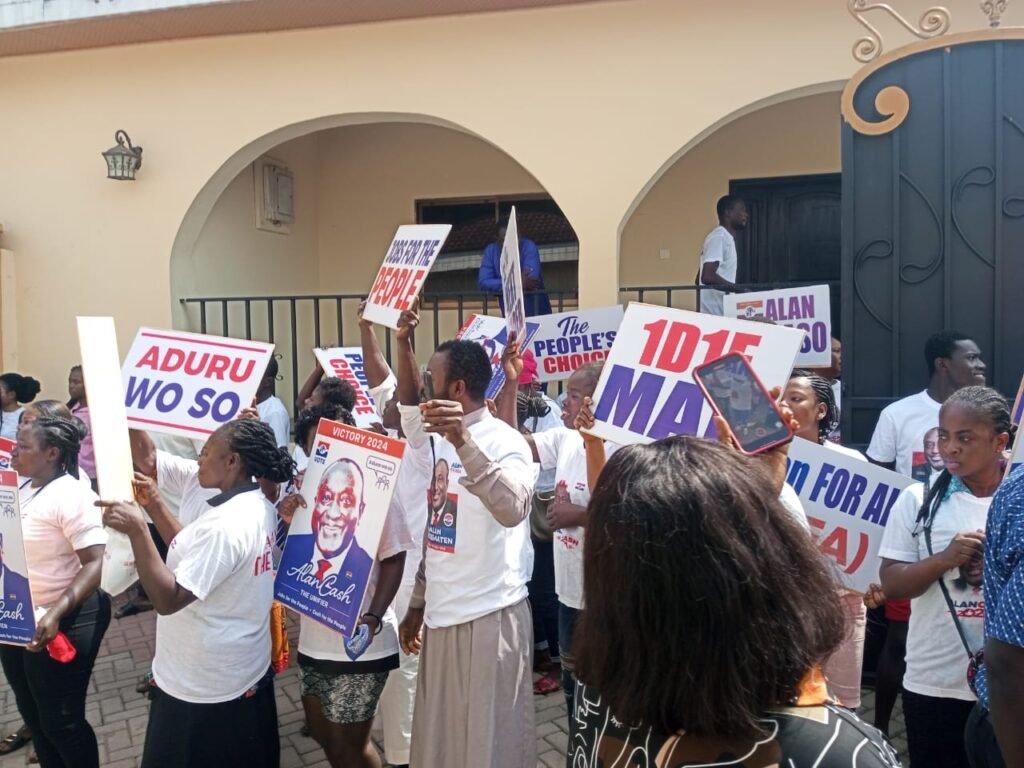 "We need someone that will lead the NPP and will be accepted by Ghanaians. Those of us contesting the Flagbearer are many but we must understand that because the task ahead is difficult, we need a leader who will be accepted not only by NPP members but all Ghanaians that despite the difficulties if this is the leader you have presented then we will vote for him. I believe if the NPP votes me to lead Ghanaians will accept me for the NPP to continue. In politics, it is when you are in power that you are able to implement your vision".
He said this Friday February 10, 2022 when he paid a courtesy call on Omanhene of New Juaben traditional Area Daasebre Kwaku Boateng III as part of his campaign tour in the Eastern region.
The former Minister of Trade and Industries who is contesting the flagbearer position for the third time stated that he is the right candidate NPP needs to improve votes in the party's stronghold to at least 80% and make significant incursion to the stronghold of his political opponent.
"Every political party has a stronghold, for the NPP our base is Ashanti region so if we are electing a leader we need someone who will secure massive votes in Ashanti region at least 80% of the votes in Ashanti region before we can cross. Again, we need someone who will make incursion into the base of the opposition party to get some significant votes from Volta Region .so we plead that let your grandchildren understand that if the NPP wants to get more votes in Ashanti region and make gains in Volta Region, bring Eastern and central together than Alan is the right candidate. Alan is the best chance for NPP to break the eight."
Alan Kwadwo Kyeremateng appealed to Daasebre Kwaku Boateng III to speak to delegates in the traditional area about his vision for Ghana.
"I know chiefs do not engage in active politics but as the linguist said the Progress and development is however dear to your heart .I am aware of your quest for development in New Juaben that is exactly what I am also envisioning for Ghana. I know when you speak the delegates listen. So I plead that you speak to them".
Addressing the Alan Kyeremateng and his entourage, Daasebre Kwaku Boateng III stated that Nananom are aware of the contributions of Alan Kyeremateng to the development of the country from the days of former President Kuffuor's regime to President Akufo Addo government.
He assured the flagbearer hopeful that he and his sub-chiefs will support and remember them in their prayers.
From the Yiadom Hwedie Palace, Alan Kyeremateng and his team met the Regional Executives of the party, delegates and visited Koforidua main market to interact with market women.
Source: Ghana/Starrfm.com.gh/103.5FM/Kojo Ansah