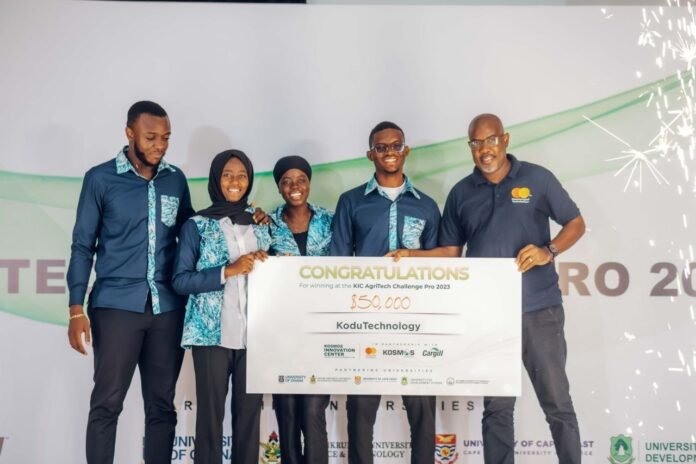 The winners of the 2022/2023 Kosmos Innovation Center (KIC) AgriTech Challenge Pro were announced in a final pitch competition held in Accra on Friday, March 24, 2023.

This comes after months of extensive training on entrepreneurship and business development, with coaching from a team of experts drawn from academia, business, industry, civil society, and government.
The KIC AgriTech Challenge Pro competition provides a platform for young entrepreneurs to showcase their innovative ideas and businesses and compete for funding support while receiving skills that help them develop their business modules and strategies. Participants are drawn from the AgriTech Challenge Classic program and from a pool of existing start-ups who are ready to nurture their businesses for investor readiness.

The teams were coached and mentored by the following universities: the University of Cape Coast, the University of Ghana, the Kwame Nkrumah University of Science and Technology, the University for Development Studies, and the SD Dombo University of Business and Integrated Development Studies.

Among those present at the event were KIC Board Chair Mr. Joe Mensah, members of the KIC Board, representatives from Kosmos Energy, Mastercard Foundation Country Director Rosy Fynn, as well as other stakeholder organizations across the innovation and agribusiness ecosystem in Ghana.

This year's edition of the AgriTech Challenge Pro forms part of the implementation of a multi-year partnership agreement with the Mastercard Foundation to train the next generation of young leaders and entrepreneurs in Ghana's agriculture sector.
Twenty start-ups competed for a total prize pool of $350,000. At the end of the pitch competition, Kodu Technology (University for Development Studies) and Agro Empire (University of Ghana) each won $50,000. AgroCold Ghana (University of Cape Coast) won $40,000.

DorthNoch, Awunpara, and Wobil Technologies (Kwame Nkrumah University of Science and Technology) each received $20,000.
JAASGrow (University of Cape Coast), Sagrisalma (University for Development Studies), King Tractor and KigoAgro (SD Dombo University of Business and Integrated Development Studies), and AquaMet (University of Ghana) won $30,000 each.
In addition to funding support, the winners will continue to receive mentorship and coaching from the Kosmos Innovation Center team and its experts and will collaborate with the business incubation and innovation hubs from the campuses of the programme's partner university campuses.

Speaking at the event, KIC Executive Director Mr. Benjamin Gyan-Kesse reiterated the Center's commitment to creating opportunities for young people in Ghana to thrive within the agribusiness sector by leveraging sustainable, viable, and market-ready business ideas within the value chain and congratulated this year's competition winners.

"At KIC, we are proud to be supporting young entrepreneurs to take their business ideas to the next level. The future of AgriTech in Ghana is promising, we will continue to support young people to create economic and social impact. KIC believes in the potential and power of young people to be changemakers and active drivers of their development," he said.

Ms. Rosy Fynn, Country Director of the Mastercard Foundation in Ghana, emphasized the Foundation's commitment to impacting the lives of young people in tech and agriculture, in line with its Young Africa Works strategy.

"The Mastercard Foundation is committed to its target of providing three million dignifying jobs for young people in Ghana by 2030. We are convinced that the agricultural sector provides great opportunities for the youth to create transformational change, by applying AgricTech innovations and solutions to foster sustainable value chains," she said.

Kosmos Innovation Center (KIC) is committed to empowering young people to find innovative and entrepreneurship opportunities within the agricultural value chain. Since its inception in 2016, KIC has pioneered the KIC AgriTech Challenge Pro, an accelerator program aiming to support young entrepreneurs to launch and grow commercially viable, scalable solutions to key problems in the agricultural sector. The program aims to drive technology and innovation as a catalyst to enhancing productivity, improving yields, and creating more jobs within Ghana's agricultural sector.

Some past winners of the competition include Trotro Tractor, Agro Innova, Complete Farmer, TechShelta, Nvoicia, Soil Solutions, AiScarecrow, Prosect Feed, OASAL Group, FruitFlour, Agrimercarb, Farm Asyst, Farm Estate, Asa Nwura, BOOD, Maku Foods, Demi Pearl, and Delsoy.

These businesses have gone on to expand their operations, impact livelihoods, and improve local communities.