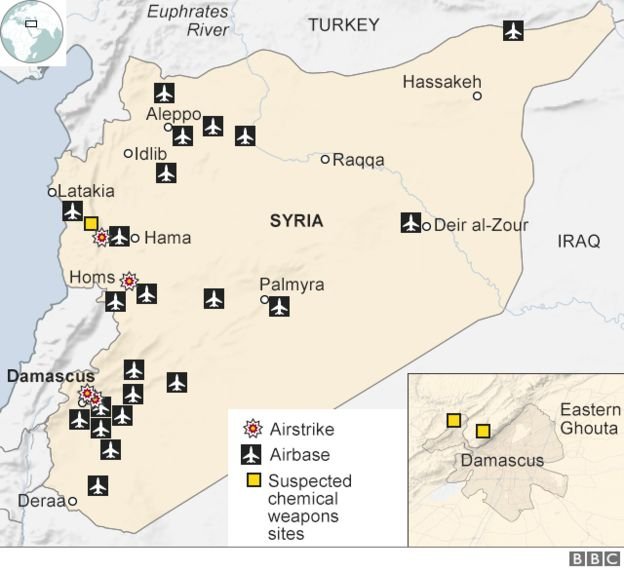 The US, UK and France have bombed multiple government targets in Syria in an early morning operation targeting alleged chemical weapons sites.
The strikes were in response to a suspected chemical attack on the Syrian town of Douma last week.
Explosions hit the capital, Damascus, as well as two locations near the city of Homs, the Pentagon said.
Russia's ambassador to the US responded by saying the attack on its ally "will not be left without consequences".
"The nations of Britain, France, and the United States of America have marshalled their righteous power against barbarism and brutality," President Trump said in an address to the nation from the White House at about 21:00 local time (02:00 BST).
"The purpose of our actions tonight is to establish a strong deterrent against the production, spread, and use of chemical weapons," he said.
The wave of strikes is the most significant attack against President Bashar al-Assad's government by Western powers in seven years of Syria's civil war.
A 'one-time shot'
At a Pentagon briefing shortly after Mr Trump's announcement, Gen Joseph Dunford listed three targets that had been struck:
A scientific research facility in Damascus, allegedly connected to the production of chemical and biological weapons
A chemical weapons storage facility west of Homs
A chemical weapons equipment storage site and an important command post, also near Homs
Syrian state television said government forces had shot down more than a dozen missiles, and claimed only the research facility in Damascus had been damaged.
Three civilians had been injured in Homs, it said.
Reuters news agency cites a pro-Assad militia commander saying other locations were hit, including various sites close to Damascus: a military base in the Dimas area; army depots in the eastern Qalamoun; the Kiswah area, where Iran is believed to have been building a base; and a site in the Qasyoun hills, plus a research centre in Masyaf, further north. These reports are unverified.
US Secretary of Defence James Mattis told journalists there were no reports of US losses in the operation.
In his earlier address, President Trump had said: "We are prepared to sustain this response until the Syrian regime stops its use of prohibited chemical agents."
But Secretary Mattis said that "right now, this is a one-time shot". Gen Dunford confirmed the wave of strikes had ended.
Gen Dunford said the US had specifically identified targets that would "mitigate" the risk of Russian casualties. But the Pentagon said that Russia – which has forces on the ground in Syria in support of the government – had not been given advance notice of the targets.
UK strikes in Homs
UK Prime Minister Theresa May confirmed British involvement, saying there was "no practicable alternative to the use of force".
But she also said the strikes were not about "regime change".
In a further press briefing on Saturday morning, she said that while the assessment of the strike's results is still ongoing, she was confident of its success.
UK strikes carried out by four Tornado jets hit one of the targets mentioned by the Pentagon – a military site near the city of Homs which is believed to have housed precursor materials for chemical weapons, according to the UK Ministry of Defence.
French President Emmanuel Macron also confirmed his country's participation in the operation.
"Dozens of men, women and children were massacred with chemical weapons," he said of the Douma incident a week ago – adding that "the red line had been crossed".
Source: BBC