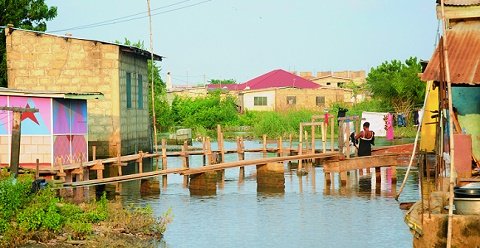 Residents of Tetegu in the Ga South district of the Greater Accra region are blaming the Ghana Water Company Limited for the massive devastation after hundreds of homes got flooded following the spillage from the Weija Dam.
The residents told Starr News' Daniel Nii Lartey that the GWCL did not check to unblock the water way leading to the estuary which had been blocked by residents living in Tsokome.
Over a hundred homes have been flooded following the spillage from the Weija Dam. The flooding has also affected almost a thousand residents with some seeking shelter with friends and neighbours.
Victims of the spillage have been asked to relocate to safety, as the water level in the dam has reached 14.63 metres of which the GWCL intends to spill more water till the level reaches the safe operational level of 13.7metres.
Communities mostly affected by the spillage include Glefe, Bortianor, Away, Oblogo, Tetegu, Pambros Salt, Old Barrier and Ada Kokpe.
The GWCL every year, as part of the measures to ensure the safety of Accra's only treatment plant, spills excess water from the dam to the sea to bring the water level to its desired limit.
So far, all the four spillways of the dam have been opened to allow excess water to flow to the sea, a situation which has flooded homes around the low lying areas in the municipality.
A unit committee chairman for Tetegu Mark Mawuenyagah, told Starr News that they were not adequately informed before the dam was spilled.
In 2014, many homes at Glefe and Opetekwei were flooded, following the spillage of the Weija Dam and the enormity of the situation compelled residents to pack their belongings to safety.
Similarly, in June 2016, communities such as Tetegu, Oblogo, Pambros Salt, Lower McCarthy Hill, Weija, Bojo Beach and Ada Kokpe were inundated.
Source: Ghana/Starrfmonline.com/103.5FM