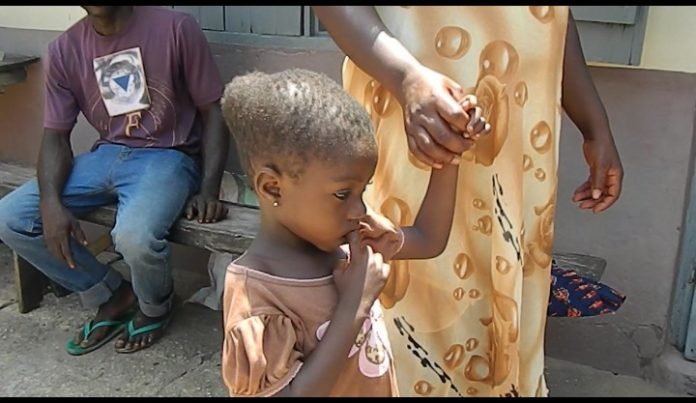 Parents of a 3-year-old girl in Akpafu, a suburb of Hohoe Municipality in the Volta region are appealing to the general public to help contribute an amount of GH¢16, 233.15 to help their child undergo a tumour surgery.
Sitting on a wooden bench near the window to their room, holding back tears Mr and Mrs Sarpong found it excruciatingly painful to open up on their daughter's condition Diana Sarpong, a primary one student.
The mother, Hancy Tetteh-Sarpong who looked very heartbroken, with worries all over her face indicated that she was bathing her daughter about nine months ago when she realized part of her daughter's head is swollen.
According to her, the child said, she was hit with a stone by a school mate some time ago and that the swelled portion started expanding day-by-day.
Together with my husband, she went to the school to find out what exactly had happened to her daughter but their efforts to know the real story proved futile.
Mr and Mrs Sarpong after their unsuccessful attempt to understanding what happened to their daughter at school proceeded to send her to the clinic whereupon they were referred to the Hohoe Municipal Hospital for further diagnosis.
After over a year of seeking medical care, for Diana, the swelled portion of her head continues to enlarge into what the doctors at the Hohoe Municipal Hospital say is a tumour.
Referred to Korle Bu Teaching Hospital for a remedy since January 2019, Mr and Mrs Sarpong are now sprawling to raise a whopping GH¢16,233,15 for Diana to undergo surgery.
Speaking to Starrfm.com.gh Mr Sarpong said in a resigned tone that over a year of trying to get help for Diana including attending prayer camps and footing hospital bills have already collapsed their financial source.
"We have done the best we can as parents who love their children to treat this uncommon sickness but it's clear it cannot be successful without money," he bemoaned bitterly.
Diana was discharged from the Hohoe Municipal Hospital 9 January 2019, with a referral statement to Korle Bu Teaching Hospital for the surgery as an emergency case.
But due to financial constraints, they are still at home while the tumour keeps swelling day by day.
"It's a worrying situation for us for a year now, we wish to forget this surgery but the future of this (tumour) is unclear and that we need help from the public to get Diana through the surgery," said Mr and Mrs Sarpong.
NB: Donations can be made to; Albert Kuzor (the reporter)
Savings Account: 0351604900721
Bank: Access Bank Gh. Ltd
Or can kindly contact StarrFm.com.gh's editor and the reporter on 0543534508
Source: Ghana/Starrfm.com.gh/103.5FM/ Albert Kuzor