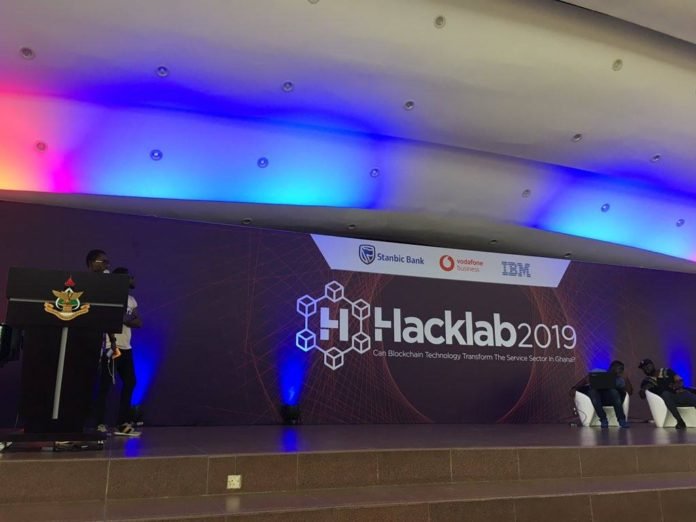 In the next three days Ghana is expected to see budding IT enthusiasts sky rocketing a number of IT solutions to societal problems, especially in the service sector of Ghana's economy using Blockchain technology.
This year's Hackathone by the Hacklab Foundation has brought together over 600 student software developers, content editors, programmers, computer scientists, Graphic Designers, programmers and industry leaders to discuss the new evolutions in blockchain technology under the theme, "Can Blockchain Technology Transform the Service Industry in Ghana?"
The opening ceremony on Friday, witnessed career-stirring thoughts delivered by key note speaker Dr Thomas O. Mensah, the internationally celebrated Ghanaian inventor with 14 patents seven of which he obtained within the record time of six years.
The fibreoptics technology inventor exposed participants to Nanotechnology which he has captured in his latest book "Nano Commercialization in the 21st century,"
Dr Thomas Mensah challenged the participants to look beyond the stereotypes propounded to suppress the black race and rather join #The right stuff comes in black too# a campaign he is spearheading with a book already on the bookshelves talking about the power of the black to also invent for the world to follow.
Panel discussions on blockchain technologies set the ball rolling with industry captains including David Amuquandoh, Senior Software Engineer,@StanbicBankGH,Nana Bambara-Abban,Product Owner / CEO Agile,Digital & Organization(@akaditi_ )& Alexander Abroquah(Digital Transformation Manager,@VodafoneGhana ) leading the charge.
Speaking to Ultimate News on the need for the hackathone, president of the Hacklab, Foster Awintiti Akugri, explained that, "it's important for tech enthusiasts to align with emerging technologies like blockchain, data science, artificial intelligence, machine learning and the like. So for the next four years, we are going to be focusing on each emerging technology within the year.
He told reporter Ivan Heathcote – Fumador, "The objective is to drive that conversation and get them to start building the competence and skills within those areas because the demand for those skills are going to become heavy in the next five years."
Expressing optimism about the future of tech driven solutions for Africa, Foster was excited, "Jumia came from Africa Farmaline is from Ghana, Dreamoval is from Ghana, OLX, Tonaton and HackTel are all success stories from Ghana and that is how I see the dynamics going.
The 2019 Hackathon challenge will task project groups, to develop solutions to address problems in the areas of Education, Agriculture, Energy, Tax, Financial Service, Healthcare, Transportation and Logistics Sector using Blockchain Technology.
These groups will be assigned to mentors and coaches who will vet, critique, direct and support the teams build their project concepts into workable prototypes that could end up getting funding for their innovations using blockchain technology.
A participant and second year computer science student of the Kwame Nkrumah University of Science and Technology, Francis Eshun is in the hackathone challenge with an IT solution to address a common problem in the Real Estate Industry in Ghana where people fall victim to double sale of lands.
"With the sale of lands there are so many middlemen and we are trying to use blockchain technology as a way to eliminate the middlemen and simplify the whole process. With the block chain, it is immutable and the information that you send in there cannot be changed. We want to use the Hacklab Hackathone to scale up the business so that when we send this business out there, people won't have to worry about trust issues about how to purchase and manage lands," he described.
Christiana asare outlined, "Our team is targeting the health sector and how we can bring about some improvements using blockchain technology. We are looking at pharmaceuticals and how the public can track where the medicine is coming from and whether it is authentic."
Another enthusiast Nana Kunadu told Ultimate News, "my team is using blockchain technology to help the transport sector to have maintenance records and we think it will help reduce the spate of accidents we are experiencing currently in the country."
These participants per their performance and viability of their ideas will be eligible for 10 award categories with a total of GHC12, 000.00 in cash prizes to be won, on-spot internships and job recruitments and investment opportunities to scale solutions that emerge from the hackathon challenge.
Other awards will also be presented to winning teams including IBM Cloud Credits, Google Cloud Credits, RingCaptcha Credits, Start-up branding opportunities for the top 10 teams, etc. Winning teams will also get the opportunity to participate in the Hacklab-GSBS Start-up School, a 6-week pre-incubation program to further develop their solutions.
Source: Ghana/Starrfm.com.gh/103.5FM/Ivan Heathcote – Fumador