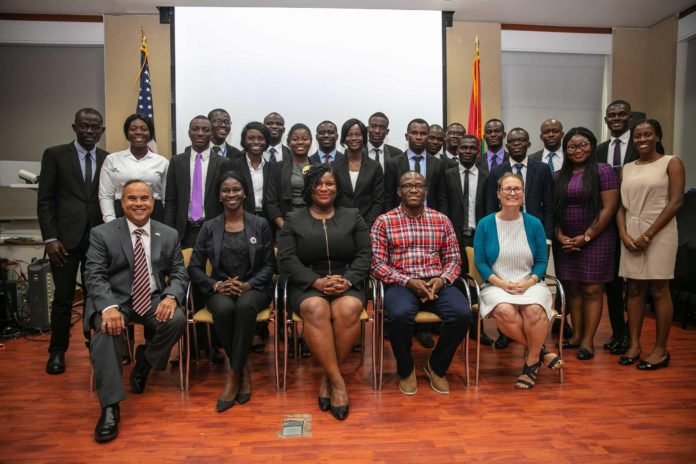 Until Sunday, April 7th Emerging Public Leaders of Ghana (EPL Ghana) will accept applications for its second cohort of Public Service Fellows. High-performing university graduates who: i) have an interest in developing a career in public service, and ii) are preparing to undertake their National Service from August 2019 are encouraged to apply.
Emerging Public Leaders of Ghana is an Accra-based organization developing Ghana's next generation of competent and motivated leaders committed to a career in public service. Through its Public Service Fellowship, EPL Ghana provides talented Ghanaian university graduates with two years of given employment in the public service, rigorous trainings, and mentorship to gain the leadership and technical skills necessary to become effective public servants who will improve public service delivery and spur good governance in Ghana.
EPL Ghana builds upon the 10-year success of its Liberian counterpart (the President's Young Professional Program – PYPP), which has recruited and supported over 140 Public Service Fellows in Liberia; the vast majority of whom continue to work as professionals in Liberia's public service. By virtue of its significant impact in Liberia, the founders saw a need to expand the program within the continent.
Through building strong partnerships with the Government of Ghana, including the Office of the Head of Civil Service and National Service Scheme, EPL launched in Ghana in 2018 with the selection of its inaugural cohort of 20 Public Service Fellows. These Fellows are currently placed across nine government institutions. To date, Fellows testify that the Fellowship has encouraged them to be change agents who work competently, act ethically and drive change in their respective job roles.
Headquartered in Washington, D.C., Emerging Public Leaders intends to grow a pan-African network of 500 and more public sector leaders across Africa by 2023.
ELIGIBILITY CRITERIA: Applicants would have to meet the following requirements:
Ghanaian nationals with no criminal history
Must have academic standing of First Class or Second Class Upper (or 3.0 GPA and above)
Enrolled in the final year of an undergraduate degree program or a recent university graduate
About to undertake their National Service Scheme (NSS) in September 2019
Commitment to public service and demonstrated leadership potential
Track record for community involvement and a passion for Ghana
Strong written and verbal English skills
Basic computer skills
HOW TO APPLY: For details, please visit https://www.emergingpublicleaders.org/ghana-1