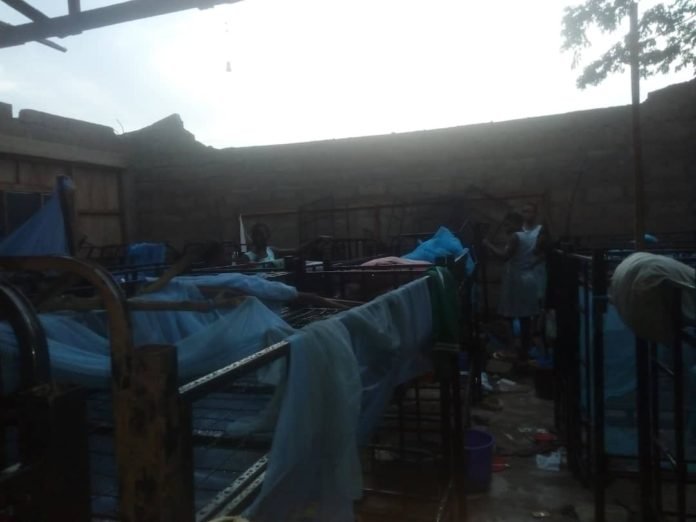 Three female students of St. Stephen's Presbyterian Senior High School (STEPSS) at Asiakwa in the East Akyem Municipality of the Eastern region sustained minor injuries in a heavy rainstorm disaster which ripped off the girls dormitory.
The injured students were yet to be sent to the hospital Wednesday Morning.
Also affected in the rainstorm disaster that hit the school Tuesday around 5pm are the School Canteen, classrooms and a modern notice board recently erected.
The destruction of the Classroom- turned -dormitory has displaced dozens of Students struggling to have a place to sleep. Last night, the displaced students perched in classrooms.
The Students were seen salvaging their soaked books, school uniforms, mattresses and other learning materials Wednesday morning during Starr News' visit.
The Headmaster of the School, Samuel Asante Anarfi told Starr News that the disaster has worsened the already distressful infrastructure challenges in the School disrupting academic exercise.
He appealed for urgent aid to help re-roof the affected buildings to enable academic exercise to resume with alacrity.
"The disaster has affected academic exercise. Now, we are struggling to find a place for the students to sleep. Yesterday for instance, they slept in a classroom. We urgently need packets of roofing sheets to re-roof the affected buildings. Exams time is also near."
The Headmaster also appealed to government to help expand the limited infrastructure in the school to be able to provide adequate facilities to accommodate the growing population as a result of the Free SHS Policy.
Officials of National Disaster Management Organization (NADMO) were yet to visit the scene for assessment.
Source: Ghana/Starrfm.com.gh/103.5FM/Kojo Ansah