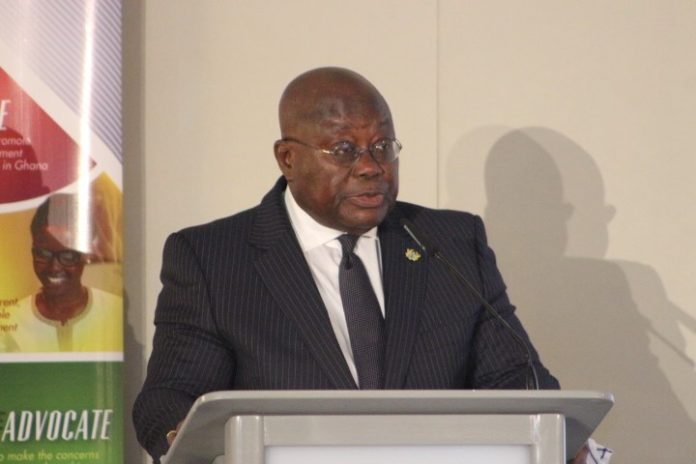 President of the Republic, Nana Addo Dankwa Akufo Addo has stated that the decision of his government to reform the Banking sector of the country has paid off greatly as a result of the strong signs of growth the banking sector is currently experiencing as at the first quarter of 2019.
Speaking at the turn of the formal opening of the new head office of CalBank, the "CalBank Tower", at Ridge, along the Independence Avenue, President Akufo Addo said, over the period of stay of his government in office, they have made it clear that a vibrant banking and financial sector is at the heart of efforts to ensure the rapid growth of the economy and the delivery of good paying jobs for the citizenry.
"The role of banks to this end is critical. When banks do not become mere profit making enterprises but see themselves as active partners with government in building a healthy, productive and robust economy, them we will be making significant progress" the President said.
"It is the very reason my government placed a lot of emphasis on reforming the banking sector, taking measures we deemed necessary to safeguard the stability and prospects of the economy" the President added.
President Akufo Addo further indicated that it is evident that the measures government took "saved the banking industry from a very dire situation characterized by the existence of several weakly capitalized banks, balance sheets entangled by a multitude of low performing loans, pursuing bad business models with poor governance practices and largely non existent central bank regulation".
"These measures saved not only the deposits of some one and a half million Ghanaians, their businesses and the people they employ but also minimised job loses in the banking sector" the President said.
The President had occasion to congratulate CalBank for being an indigenous bank that has embraced best practices over the last 30 years to be one of the best performing companies in Ghana.
"The government that I lead will continue to encourage our domestic champions to grow and take significant positions in key sectors of the economy. A careful glance of CalBank fortifies my believe that with hard work, ingenuity, innovation and creativity, we can indeed realise the vision of a "Ghana Beyond Aid", President Akufo Addo said.
Governor of the Bank of Ghana, Ernest Addison, on behalf of the board of the Central Bank congratulated the board, management and staff of CalBank on the opening of their new office complex.
"I encourage the management and staff to continue to maintain the highest standards of integrity particularly in the area of corporate governance to maintain public confidence in the CalBank" the Central Bank Governor said.
Paarock A Vanpercy, Chairman of the Board of Directors and Frank Brako Adu Jnr, Managing Director of the CalBank both addressed the gathering reiterating the banks commitment to serve its customers my professionally as it begins operations in its new office complex.
Source: Ghana/Starrfm.com.gh/103.5FM