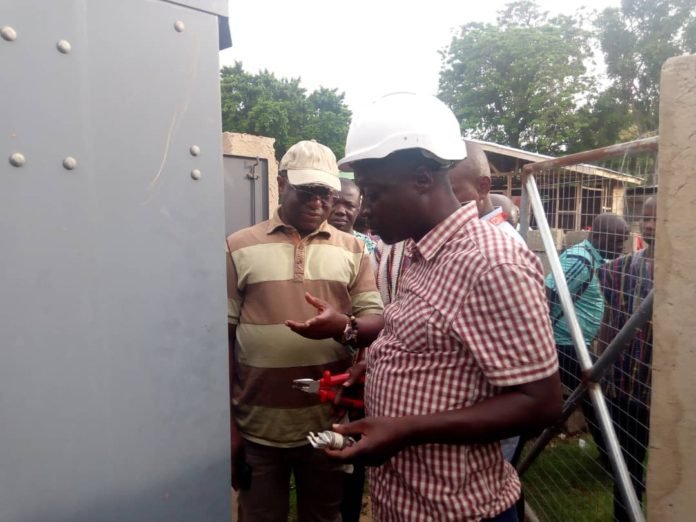 Energy Minister John Peter Amewu says the Ministry will direct Power Distribution Services (PDS) to obey all existing agreements with the Krobo People on the over billing impasse while investigation is conducted into the billing anomaly and the subsequent incidents.
Mr. Peter Amewu did not mince words in describing the over billing issue in the Krobo area as "a complete nonsense which can never be entertained"
"I had chance right now to visit one of your citizens home and on the wall, the gentleman showed a meter and that meter read 00046 and according to him it has been there for the past six years.If 00046 keeps on that wall for such a long time what is the justification or basis for billing or what are you billing. And this is the case the man said he's been paying for almost Ghc700 every month.The people come,look at the meter and read it out .I mean this is complete nonsense [excuse me to use that word].This can never been entertained in this country".
He therefore said the Ministry supports the action of the Krobo people particularly at a time the Akufo-Addo-led government has reduced electricity tariff by 30%.
"….and it is on that,that the Ministry supports action for people to query bills and to ask questions of people who are responsible unfortunately in attempt to do that it resulted in an accident that we never want to witness on this land again"
The Minister said this when he paid courtesy call on the Konor of Manya Krobo Nene Sakitey II at his palace Monday evening as part of his visit to the troubled Odumase Krobo area to order PDS restore power to residents of Kpongunor in particular.
He noted that PDS was brought in to correct lapses and losses in the Power distribution sector therefore if it is unable to execute that it has no basis to operate in the country.
He assured that, a committee will be constituted to "investigate and find out what actually was the cause and I can assure the perpetrators of this heinous crime that happened to citizens of this land will not be left out. We will dig deep and find out the root cause".
The Konor of Manya Krobo, Nene Sakitey said the Traditional Council is impressing on residents who have errors in their billing to send their bills to PDS for it to be corrected. He said the Traditional Council is not going to rest until the problem is resolved.
The Energy Minister had earlier visited the Chief of Kpongunor, Nene Sasraku and also commiserated with the bereaved family of the 24-year-old ,Thomas Partey, who was gunned down during the spontaneous protest by residents on May 22,2019.
The Minister pledged a total of 1000 streetlights to be fixed in the municipality to illuminate the area.
Source: Ghana/Starrfm.com.gh/103.5FM/Kojo Ansah