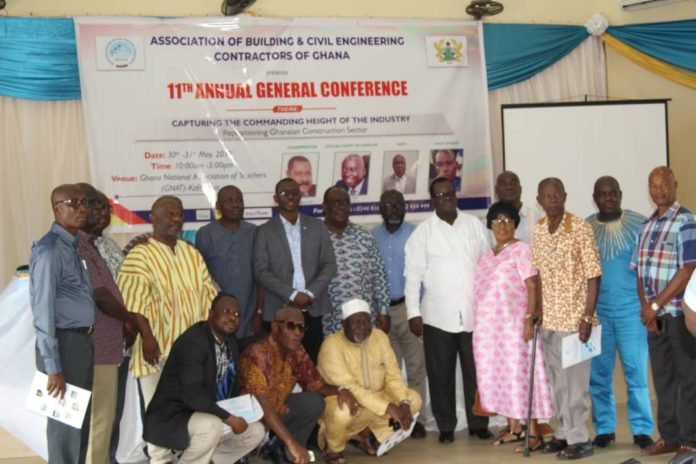 The Association of Building and Civil Engineering Contractors of Ghana (ABCECG) has bemoaned what they say is the unjustifiable delay in payment of arrears by government saying it is crippling the construction industry .
According to the National President of the Association, Prosper Yao Ledi, the undue delay in payment of Contractors has put contractors into  serious financial crises and collapsing their companies.
Contractors have been up in arms with government over delayed payments of arrears after repeated failed promises. The contractors have repeatedly threatened to go on demonstration
In the last quarter of 2018, GETFUND secured a 1.5 billion dollar loan to pay contractors.
However, President of the Association of Building and Civil Engineering Contractors of Ghana (ABCECG), Mr Yao Ledi, speaking to Starr News In Koforidua Friday at the sidelines of the 11th Annual General Conference of the Association said "only few contractors- GETFUND and Road Fund Contractors – were paid early this year but to our disappointment payment was halted, even though we have been told that a loan has been secured to clear the arrears. This is killing us.
"Contractors are going through a lot of struggle, Contractors are being chased out of their houses. GRA is chasing contractors, SSNIT is chasing contractors, suppliers are chasing contractors and the Banks".
According to him"the construction industry is dying and if we do not put an end to this incessant canker of delayed payments,our industry will be completely wiped out "
He appealed to  President Akufo-Addo to as a matter of urgency pay the huge outstanding arrears owed contractors and with consultation of stakeholders find lasting solution to "perennial dreadful delay in payment of contractors in the country" since it ruins businesses and impedes on job creation.
Another concern raised by the Association at the conference was the fact that some leaders in top positions bring Foreign construction firms into the country to secure them constructs sidelining the local contractors.
" We want government to put mechanisms in place to compel Foreign Companies to register with the Association before contracts are awarded but we know some leaders front for them and they do not regard the local contractors at the end of the day we become a laughing stock when we travel outside because a foreigner can just come to the country and get contract but we cannot do same in other countries".
Minister of Works and Housing
A speech read on behalf of the Minister of Works and Housing by the Deputy Eastern Regional Minister, Samuel Nuertey stated that government will evolve a plan to ensure that policy on local content allows for allocation of at least 40% of all infrastructural construction works to qualified contractors in the association.
The Minister noted the lack of a comprehensive regulation system and a regulatory body have led to mushrooming of untrained and uncertified technicians and other professionals in the building environment and many construction firms adding that "whereas there are Acts that regulate Professionals such as Architects, Engineers, Surveyors, and Planners, there is no such legal framework to regulate the practices and operations within the construction industry ".
Source: Ghana/Starrfm.com.gh/103.5FM/Kojo Ansah