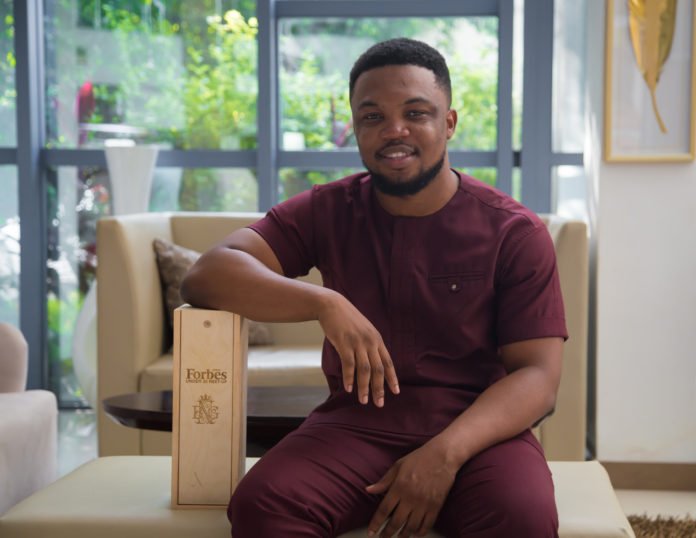 Sydney Scott Sam a young entrepreneur, was one of four Ghanaians named in this year's Forbes Africa 30 under 30 list.
The announcement was made in Johannesburg, South Africa, on Friday 28th June, 2019 where young African leaders met for a day-long summit that was organized to honor and promote collaboration between the continent's young change-makers.
Honorees in the business category must have risked their own money to establish a profit-generating enterprise that has a strong social impact and creates employment opportunities in Africa.
Sydney, 26 is a brand strategist and public speaker who is committed to transforming narratives from and about Africa through his brand engagement firm Workspace Global.
He is an alumnus of Achimota School and the University of Ghana [B.Sc/MBA] who started the business in 2015 with the main aim of providing entrepreneurs access to high-quality branding that makes them globally competitive.
Workspace Global's extensive client list includes the World Bank, UNICEF, GNPC and Tullow, but Sydney's true passion is for creating opportunities that allow African entrepreneurs to thrive.
"Our goal at Workspace is to increase the value of the African product. The world is extremely demanding in terms of quality and presentation, and we level that playing field by helping entrepreneurs tell their stories so they can price more competitively and have greater access to the rest of the world.
We have worked with homegrown brands like April Rust and Teiva Skincare to develop brand identities that make them globally competitive, and continue to look out for opportunities to collaborate with African entrepreneurs that are seeking entry into global markets."
His commitment to growing people and businesses extends beyond the Workspace brand to his role as curator of Openspace, a discussion series that brings young adults together to engage each other on social issues that range from entrepreneurship to mental health. In just over a year, Openspace has connected with over 700 people through events in and outside of Ghana.
Sydney believes that his nomination to Forbes Africa's 30 under 30 list will open up the continent to him and to Workspace;
"We want to take the impact of Workspace beyond Ghana. Africa is home to some of the world's fastest growing economies, but those opportunities are not always readily available to other Africans. This nomination opens up new doors for me and for my business;
We're looking to enter new markets in the next few years; Nigeria, South Africa, Kenya. This experience has already introduced me to so many young leaders and visionaries across the continent, and we're already discussing potential collaborations across countries and sectors."
Sydney joins a list of Ghanaian Forbes 30 under 30 alumni that includes entrepreneur and investor Sangu Delle, rapper Sarkodie, Fred Apaloo of Villa Grace and Kofi Genfi & Nii Osae Osae Dade of CYST.
Learn more about Sydney and Workspace Global at sydneysam.com and theworkspaceglobal.com