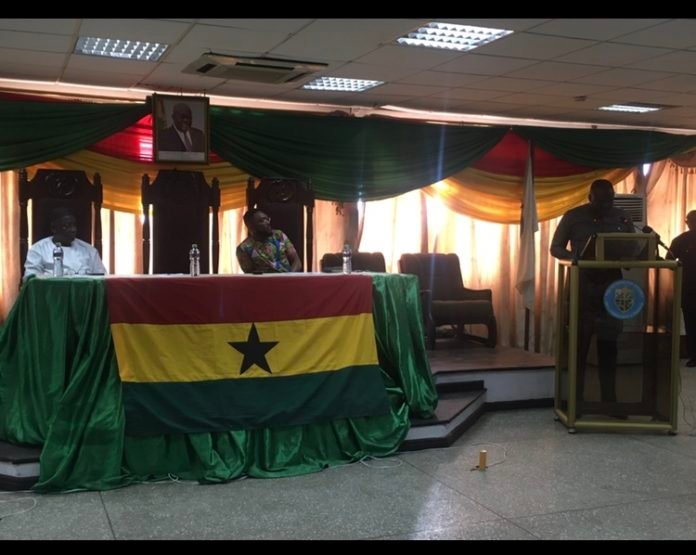 The Tema Metropolitan Assembly (TMA) and SyPhics Studios, an innovative multimedia firm that specializes in events have launched the third edition of AfroFEST at the TMA office in Tema.
AfroFest is a 7-day festival that seeks to unite with local stakeholders, celebrate and showcase the rich Ghanaian culture and put Tema and Ghana on the map of cultural excellence.
Across the Diaspora and the world at large, Ghana has been known for its vibrancy through fashion, cuisine and music.
AfroFest is a display of all the beauty that Ghana has to offer and above all, a platform to unite us and be proud of our African roots.
The event will be organized by the TMA under the auspices of the Tema Mayor, Mr Felix Mensah Nii Anang-La. It would be managed by SyPhics Studios Limited in collaboration with Renegades Africa, 4SYTE TV, and a consortium of young talented men with varied experiences in events management.
Speaking at the event, the Tema Mayor said "this is the year of return and we are happy that our brothers and sisters are returning from all over the world and are coming to Ghana. The global spotlight is on Ghana and we want to showcase our rich culture and hospitality as we always do. Everyone is welcomed to Tema for the next 7 days and beyond.
"Feel free to come and participate in the AfroFest and to see the beauty and uniqueness of Tema. We welcome you now and always," he added.
Benjamin Swanzy Kwesi, Chief Executive of SyPhics Studios disclosed that AfroFest is expected to attract over 10,000 people into Tema over the 7-day period.
He explained "we would have an array of cultural performances and display. The breakdown of activities for the period is as follows: Saturday, 21st December Durbar of Chiefs TMA Forecourt , Comm. 1; Sunday, 22nd December Afro Food Festival / 9 Lessons & Carols Leisure Spot, Comm. 11; Monday, 23rd December; Stunt Biking / Community Games Leisure Spot, Comm. 11; Tuesday, 24th December Afrofest Street Party Leisure Spot, Comm. 11; Wednesday, 25th December Masquerade Carnival Vera Street, Comm. 4; Thursday, 26th December Donation Tema General Hospital, Comm. 12; and Wednesday, 1st January Kids Party at Tema New Town."
SyPhics also engages in artiste management, graphic design and both traditional and digital marketing.
Source: Ghana/Starrfm.com.gh/103.5FM