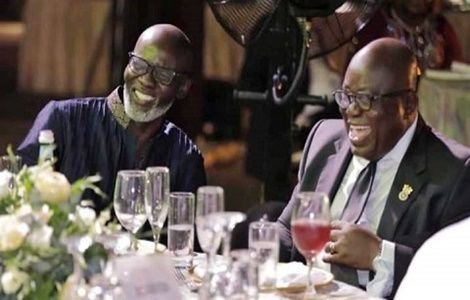 The founder of the Danquah Institute, Gabby Asare Otchere Darko, who is also a cousin to President Nana Akufo-Addo says the president "may be unusually ambitious but he usually puts his mouth where his ambition is."
Mr Otchere-Darko made the comment after the President announced the construction of 88 100-bed district hospitals before the year ends.
Addressing the nation on Sunday, 26 April 2020 on measures taken to slow the spread of fatal COVID-19,  the President also announced that his government will also construct six regional hospitals in all the newly created regions before the end of year.
"We will, this year, begin constructing 88 hospitals in the districts without hospitals. It will mean 10 in Ashanti, nine in Volta, nine in Central, eight in Eastern, seven in Greater Accra, seven in Upper East, five in Northern, five in Oti, five in Upper West, five in Bono, four in Western North, four in Western, three in Ahafo, three in Savannah, two in Bono East and two in North-Easter regions.
"Each of them will be a quality, standard design 100-bed hospital with accommodation for doctors, nurses and other health workers and the intention is to complete them within a year.
"We'll also put in place plans for the construction of six new regional hospitals in the six new regions and the rehabilitation of the Efia Nkwanta Hospital in Sekondi, which is the regional hospital of the Western Region," Nana Akufo-Addo said.
However, a section of the public and some NDC members are questioning how the president can fulfil such an ambitious project with barely eight months before the year ends.
Some have even claimed that the president's comments were deliberate to sway the public to vote for him in the upcoming presidential elections.
But in defense of the President, Mr Otchere-Darko in a Facebook post said: "I've heard some senior NDC politicians making jokes that there is simply no money budgeted for health in 2020 to allow the President to deliver 88 hospitals. Well, there wasn't COVID-19 when the budget was made. There wasn't any 50% subsidy for electricity and 100% free water in the budget but that and many more are happening. The same way, before COVID-19, there was no budget for collapsed banks, savings & loans, etc and yet this government found the money.
"When Akufo-Addo's Cabinet sat until 2 am last Thursday they didn't do that to drink tea and chew cream crackers.
"They were dissecting every aspect of this most ambitious health infrastructure programme ever to be rolled out since Independence.
"Please tell the NDC to have patience; they must be in no rush to Dec 7. The President said the details of the hospital projects will be made transparent and open to public scrutiny and action.
"Trust Nana, he may be unusually ambitious but he usually puts his mouth where his ambition is."
Source: Ghana/Starrfm.com.gh/103.5FM