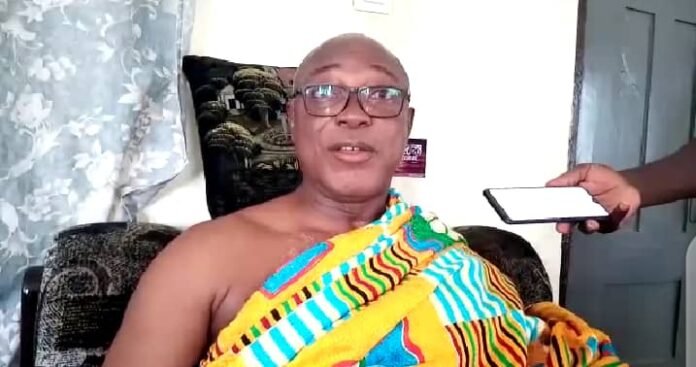 A Senior Divisional Chief and a member of the Asogli State Council of Chiefs, Togbe Kasa III of Ahoe in the Volta region has called on traditional rulers across the country to speak out on the issues regarding the insistence of the Electoral Commission to compile a new voter's register, using the Ghana card and passports only as primary documents.
Addressing the media in Ho today, Togbe Kasa noted that the decision by the EC to use birth certificate and the old Voter's ID from the upcoming registration exercise could disenfranchise many Ghanaians, thus the need for chiefs in the country to advise the EC.
He said, "the stronger parties, NPP and NDC are all playing war drums using abusive and insulting words, so I'm calling on all traditional rulers to call on the Electoral Commission so that both birth certificate and the old Voter's ID cards be used concurrently for the new registration exercise."
Togbe believes that the utterances of the aggrieved parties are too volatile, while stating that the repercussions of a violent political atmosphere would be borne by no other person than innocent Ghanaians who certainly have no stake in Ghana's politics.
"These politicians, we don't know their homes and so, when something happens now, it's me, our children, the innocent ones, they would be suffering. It happened in Liberia and some other parts of Africa, so we don't want this sort of brouhaha to come into this country," Togbe cautioned, while lamenting that, "moreover just imagine, they have closed the boarders too, where are we running to?"
"So I am pleading that any chief who understands these things should speak out and call the Electoral Commission for the right thing to be done. Because I know, 'chicken does not hatch egg, it is rather egg that hatches chicken," he urged.
Despite a wide public disagreement from some political parties and CSOs in the country, the Electoral Commission is insistent on going ahead with the compilation of an entirely new voter's register ahead of the 2020 general elections.
A week ago, the EC secured a Parliamentary approval of C.I 126 to allow for the usage of the Ghana card and a valid Ghanaian passport only as primary documents for the registration exercise, excluding the old Voter's ID and birth certificate from the registration process.
Meanwhile, the National House of Chiefs has appealed to the Electoral Commission to ensure that no qualified Ghanaian is disenfranchised in the upcoming elections as it plans to create a new electoral roll for the polls.
The traditional leaders in a statement issued on May 31 said they are concerned about the growing tensions in the country over the register ahead of the polls.
Source: Starrfm.com.gh/103.5fm/Faisel Abdul-Iddrisu