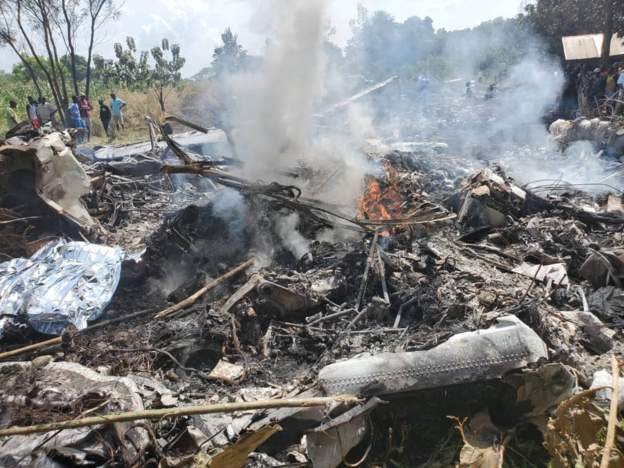 At least five people are now known to have died in a fatal plane crash on Tuesday morning shortly after takeoff from Juba International Airport, South Sudanese aviation authorities have told the BBC.
Those killed included four crew members – two Ukrainians, two Sudanese and one South Sudanese – a representative of Optimum Aviation Ltd, the company that owns the plane said.
The cargo plane had been chartered and operated by Euro Airlines, a local aviation company registered in South Sudan.
Kur Kuol, director-general of Juba International Airport, says the cargo plane was carrying fuel from the capital, Juba, to Maban town in Upper Nile State in the northern part of the country.
"The cause of the crash cannot be known right now – it needs time because a committee will be formed to investigate the exact cause of the crash," Mr Kur told the BBC by phone from Juba after visiting the site of the crash east of White Nile.
South Sudan has poor aviation safety records.
Since becoming independent 10 years ago, there were a number of planes that crashed in the country, the worst in November 2015, when a Soviet-era Antonov aircraft crashed shortly after take-off from Juba international airport killing at least 37 passengers on board including the six crew members.
Source: BBC